Detroit sports fans have the chance this month in Mural Sports Moments voting to choose iconic Detroit sports moments to literally put up on the wall of the Michigan sports betting facility.
A local artist will paint a mural for the FanDuel Sportsbook at Detroit's MotorCity Casino, with the winning moments immortalized later this year. The promotion is being run in partnership with 97.1 The Ticket, the state's leading sports radio station.
Magglio's walk-off blast in 2006? McCarty weaving his way through the Flyers in 1997? Vinnie's :00.7 game-winner? Something involving the Detroit Lions?
"The cause for debate came up in this passionate town and so many great sports moments over the years," said Jeff Hoose, midwest regional manager of FanDuel Group. "To take it to such a powerful station and so many people love it, including our loyal customer base. So we wanted to be part of that sports talk radio debate. This mural is an effort to be part of that."
The promotion also might be replicated in other markets, according to Kevin Hennessy of FanDuel.
New Players get up to $200 in Bonus Bets at FanDuel Sportsbook
Up to $200 in Bonus Bets
Available on Desktop, Android & iOS

To Claim: Click Play Now

How FanDuel's Mural Sports Moments promotion works
The nomination process has already started through the 97.1 website. Click this link and scroll down to find the submission form to nominate your favorite moments involving the Detroit Lions, Pistons, Red Wings and Tigers.
That process continues through this week.
Out of the submissions, 97.1 The Ticket will put Twitter polls out for voting Monday through Thursday of next week, trimming four finalists for each team into a winner for each sport.
Here is the schedule for the voting:
Monday: Hockey
Tuesday: Football
Wednesday: Basketball
Thursday: Baseball
On Friday, July 23, an iconic moment will be chosen in a Twitter poll from the four winners, though the mural will depict all four sport-specific moments.
Strong candidates for best moments in Detroit sports history
Although we are definitely in the doldrums of the city's sports scene, this Detroit Mural Sports Moments endeavor allows fans a chance to argue and haggle about moments from the past.
Here are our choices for each sport.
Detroit Tigers
Although the Tigers haven't won a World Series since 1984, there are plenty of moments even since then from plenty of future Hall of Famers.
Of course, you can go waaayyy back for some of the franchise's best moments here, but you might consider FanDuel's target audience in its sportsbook.
So, with apologies to Justin Verlander no-hitters and the iconic Kirk Gibson photo from the Detroit Free Press, we're picking the Magglio Ordonez walk-off home run to go to the 2006 World Series.
It was an unexpected run and one of pure bliss — and not as tinged with regret as the later runs.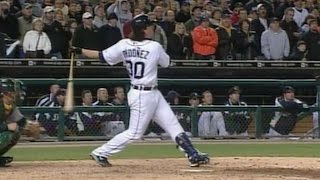 Detroit Red Wings
Steve Yzerman getting the Stanley Cup in 1997 or presenting Vladimir Konstantinov with it the following year are great choices. So is anything involving Gordie Howe, though singular moments haven't really seeped through the generations for the late Mr. Hockey.
To us, it comes down to two Darren McCarty moments, amazingly.
The runner-up is McCarty unleashing fury on a turtled Claude Lemieux of Colorado on March 26, 1997.
But later that season, McCarty's goal against Philadelphia in the Stanley Cup Finals to go up 2-0 in the finale of the sweep stands out.
What a moment.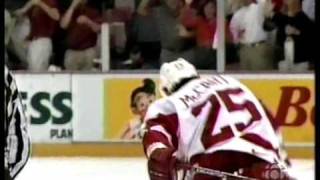 Detroit Pistons
The Tayshaun Prince block of Reggie Miller in the 2004 Eastern Conference Finals is the iconic moment of the 2004 championship run.
There are other Ben Wallace plays that also similarly define the Going to Work era.
But talk about iconic … Vinnie Johnson hit a game-winner on the road with :00.7 remaining to go back-to-back with the Bad Boys in 1990.
I'm willing to listen on locker room moments from the 1989 title with Isiah Thomas smiling huge and grasping the Larry O'Brien Trophy with his Bad Boys teammates around.
But it's still Vinnie for me.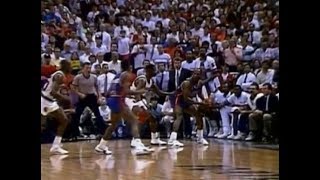 Detroit Lions
OK, this is the hardest one.
There are some Barry Sanders highlights, and keep in mind Barry was on hand for the opening of this particular sportsbook last year (though, if you're keeping track, he's now on the BetMGM roster). Maybe Sanders on his teammates' shoulders after the game where he passed 2,000 yards or really during any ankle-breaking run would suffice.
There's also some Calvin Johnson plays that still amaze, as well as Johnson and Matthew Stafford simultaneously dying inside during the Aaron Rodgers Hail Mary at Ford Field. You might even go back to the 1950s, when the Lions were actually good.
But fans have a chance to be tongue-in-cheek here if they'd like, so may we offer referee Pete Morelli picking up the flag against after announcing pass interference against the Dallas Cowboys in the 2014 NFL playoffs?
It's a chance to portray the agony of rooting for this franchise without being over-the-top trolls in pointing at particular owners and coaches and players from yesteryear.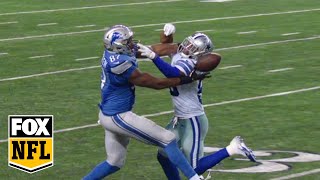 What do you think?
You'll have the chance to let your voice be heard soon to pick out Mural Sports Moments for Detroit.