ESPN's "College GameDay" broadcast made its way to East Lansing for the ninth time (and the first since 2015) on Saturday, to highlight the most highly-ranked clash between the Michigan and Michigan State football teams since 1964.
The 7-0 Spartans, ranked eighth, hosted the No. 6 and 7-0 Wolverines at noon on Fox, but ESPN still focused on the Great Lakes State for the raucous pregame celebration that kicks off Week 9 of the 2021 college football season.
PlayMichigan's Danny Lawhon provided his live thoughts throughout the three-hour telecast, which began at 9 a.m. and lasted until just after noon, where everyone in the state almost certainly switched stations. (Because who wanted to watch Iowa at Wisconsin instead?)
Updates are organized in reverse chronological order. You can relive the morning in just a few minutes. Enjoy!
And if you're new to Michigan sports betting, check out our linked summary or use the live odds widget below to wager and sign up!
Michigan at Michigan State: Best Live NCAA Odds
Noon — The moment of truth
Here are the picks for Michigan-Michigan State.
Desmond Howard: Defense is the difference. Michigan.
Kirk Herbstreit: Michigan brought out the maize pants, and he was swayed. (But really, he says Cade McNamara shows up big and makes the difference. Michigan.
Ken Jeong: It's Mel Tucker's year to shine. With the home field advantage, that's too much. Michigan State.
Lee Corso: With all the fans in attendance and the hyped atmosphere, Corso says he'd be crazy to pick Michigan (the broadcast team moved inside the stadium for the final 45 minutes). But he's crazy. Michigan.
The Michigan State fans weren't happy with this pick …

Coach takes the Wolverines! 🔵 🟡 pic.twitter.com/BlDMiI3nY9

— College GameDay (@CollegeGameDay) October 30, 2021
The Michigan-Michigan State GameDay picks.

Desmond Howard: Michigan
Kirk Herbstreit: Michigan
Ken Jeong (guest): Michigan State
Lee Corso's headgear: Michigan

Here's our wrap-up of the big-game morning. Enjoy, and be kind today! https://t.co/Bh1MSQ8gsl pic.twitter.com/KgqCgGEI6U

— Play Michigan (@Play_Michigan) October 30, 2021
11:50 a.m. — It's time for picks
Detroit native and doctor-turned-comedian-and-actor Ken Jeong is the celebrity today.
First, the SuperDog selections, where the panelists pick an underdog to win outright.
Corso: Virginia Tech (+4) over Georgia Tech
Herbstreit: Miami (+9.5) over Pittsburgh
Howard: Florida State (+9.5) over Clemson
David Pollack: Michigan State (+4) over Michigan
Davis: UCLA (+6.5) over Utah
The rest of the non-GameDay picks:
UNC-Notre Dame: 4-0 Notre Dame
SMU-Houston: 3-1 SMU (Herbstreit the dissenter)
Fresno State-San Diego State: 3-1 SDSU (Jeong)
Texas-Baylor: 3-1 Baylor (Jeong)
Georgia-Florida: 4-0 Georgia
Ole Miss-Auburn: 4-0 Ole Miss
Iowa-Wisconsin: 3-1 Wisconsin (Herbstreit)
UCLA-Utah: 3-1 UCLA (Howard)
Penn State-Ohio State: 3-0 Ohio State (Herbstreit does not pick, as he's calling the game for ABC)
11:42 a.m.
On the day the Lee Corso F-bomb is acknowledged … Aidan Hutchinson drops a couple live on air. I'm sure social media will help you out, but we won't link that one live since it won't be bleeped.
And as the GameDay team acknowledge the word and quickly moved on, Chris Fallica (The Bear) picks Michigan State in a spread upset.
11:38 a.m.
Our lead writer Matt Schoch is chiming in on what last-minute betting trends he's noticing.
Just went through bet splits from DraftKings, FanDuel, Caesars, PointsBet. Spread money is coming in slightly more on Michigan State. But you're right, Michigan is a public team, but I think that's baked into front of the process now. Good breakdown here: https://t.co/0z5p6pCPpT https://t.co/bypr17f90F

— Matt Schoch (@Matt_Schoch_) October 30, 2021
11:33 a.m.
That seems unsafe pic.twitter.com/9yKiNqPiOW

— College GameDay (@CollegeGameDay) October 30, 2021
11:22 a.m. — Michigan's 'Thunder and Lightning' at running back
Desmond Howard sat down with Michigan running backs Hassan "H2" Haskins and Blake Corum to break down their potent dual running attack. Some quotable moments:
— Haskins on Michigan returning to some ground-game strengths: "We're running backs, so you love it. That's what we think about, any chance we get."
— Haskins on Corum: "Sometimes you gotta be a little patient and wait until a hole develops. … He's definitely developed."
— Corum on Jim Harbaugh: "Sometimes at practice we be working out and he takes his shirt off, he's got a little six-pack going. I'm telling you, it looks good. Coach has been working out, now."
— Corum on running backs to emulate: "The great Barry Sanders (shout out, Detroit Lions). He never went down first tackle. His cuts were just ridiculous."
Haskins, to the same question, said Adrian Peterson.
They've combined for over 1,300 yards and 20 TDs 😤

There's a reason why Michigan RBs Hassan Haskins and Blake Corum are nicknamed "Thunder and Lightning" 🌩⚡️ pic.twitter.com/JY80IXj3KP

— ESPN College Football (@ESPNCFB) October 30, 2021
11:15 a.m. — Big brother, little brother?
ESPN's Gene Wojciechowski authored an entertaining, if not predictable, take on the whole big-brother-little-brother motif whenever a school plays its in-state rival that has the "State" moniker attached.
There was the comment from Mike Hart in 2007. "Sometimes you get your little brother excited, let them get the lead. And then you just come back and take it back."
Which brought an infamous retort from then-coach Mark Dantonio: "If they want to mock us, I'm telling them, it's not over. It's just starting. Let's remember that pride comes before the fall."
And Michigan State then won seven of the next eight meetings in the rivalry, and eight of the next 10.
One Wolverines victory in 2018 brought the little brother talk again, though, this time from Michigan defensive lineman Chase Vinovich: "Sometimes your little brother starts acting up, and you've just gotta put them in place."
Current Spartans tight end Connor Heyward put the every-year importance simply: "We want to be able to walk the streets. That's what it comes down to. Who wants the bragging rights?"
In the past, Michigan was so dominant in its rivalry with Michigan State that it declared itself big brother, and the Spartans little brother.

Here's the thing: younger siblings grow up … pic.twitter.com/QSHBiNQ6s2

— College GameDay (@CollegeGameDay) October 30, 2021
11:10 a.m.
The past two decades of entertaining rivalry angst between Michigan and Michigan State, summed up by @CollegeGameDay. pic.twitter.com/djt5iCwAlm

— Play Michigan (@Play_Michigan) October 30, 2021
11 a.m. — Jalen Watts-Jackson recounts the craziest Michigan-Michigan State ending ever
The 2015 game between these two schools will live in modern Infernet infamy forever. A final-play fumble and punt and resulting Michigan State recovery and run for a touchdown by Jalen Watts-Jackson spawned shock, awe and an epic Surrender Cobra meme.
Watts-Jackson joined College GameDay to discuss the play.
On the events of 2015: "I'm getting past the blocker. The first thing I see is the ball. I'm thinking, 'get out of bounds.' All white jerseys here. I see one guy in blue. I'm thinking, 'I gotta get in the end zone.' The rest is history."
On the resulting dogpile: "Aw, man, when people think of dogpiles like basketball, that's cool, when it's little teams. But a whole football team: Stay off them boys. Stay off them boys, please."
On today's game: "I personally think Spartans roll these boys and we turn up East Lansing tonight. But Jim Harbaugh's wearing receiver gloves for some reasons, so who knows?"
On Michigan: "It's never Go Blue. Always Go Green."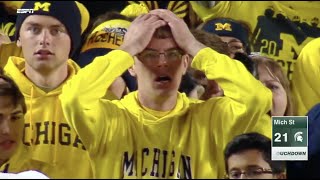 10:50 a.m.
Both sides of every big game get ribbed in the GameDay sign game, but the digs at the Wolverines sure seem to have cur deeper today.
Choose wisely pic.twitter.com/JotEITz7Ds

— College GameDay (@CollegeGameDay) October 30, 2021
10:42 a.m. — 10th anniversary of "Aw, f*** it!"
Oh, Lee Corso. Perhaps the most famous flub in GameDay lore occurred in November 2011. Some reflections came from Herbstreit and then-host Chris Fowler about their shock at what they heard. Olympic gold medalist Carl Lewis was the guest picker for a game between Houston and SMU.
Just watch, if you haven't seen this 50 times already. And if you have, then you'll enjoy again.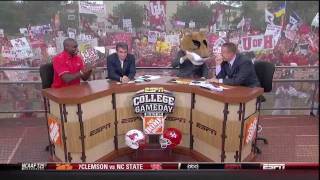 10:39 a.m. — The Bear's Board is complete
Boise State (-2.5) at Colorado State [Bear on the Rams in an upset]
Purdue (+7.5) at Nebraska [Bear picks the Huskers]
Iowa State (-7.5) at West Virginia [Bear goes with the favored Cyclones]
10:15 a.m. — The Payton Thorne-Jayden Reed connection
College GameDay usually puts together an emotional story or "hometown focus" around the halfway point of the show. The Michigan State example was the connection between Spartans quarterback Payton Thorne and wide receiver Jayden Reed, who have been playing together since middle school and have more career receiving yards together than any active Big Ten duo entering this game.
A neat 3-minute feature was put together from ESPN reporter Jen Lada. Some quick highlights:
True friendship is about being able to have the tough conversations. "Sometimes we can get in each others' grills, because we can say stuff to each other that others can't," Reed said.
Reed's father passed away in 2015, and at that point, Thorne's family took extra care in watching out for him. Says Thorne: "We're not really friends. We're truly like family, like brothers."
Although the toughest conversation might have been the Michael Jordan vs. LeBron James basketball GOAT debate. Apparently that causes an argument of at least a few minutes almost without fail.
UPDATE: Here's the video.
"What you smiling about bro? We ain't even say nothin' yet?" 😅

Michigan State QB Payton Thorne and WR Jayden Reed have a special connection both on and off the field: pic.twitter.com/2Jr1Ps57a2

— College GameDay (@CollegeGameDay) October 30, 2021
9:57 a.m. — Tom Izzo holds court on College GameDay stage
Legendary Michigan State basketball coach Tom Izzo joined the program for a few minutes, which was more than enough time for some gems.
— Izzo on Mel Tucker: "He's brought a lot of energy. … He lives a block from me. I talk to him every other day. I've had great relationships with Mark Dantonio, a good friend. But Mel Tucker … I think it's perfect. When you work here for Nick (Saban), then he goes to Alabam, he's at Georgia, he's at Ohio State, then he's in the pros. He's got the combination of both. He's got the Xs and Os and all the things they do in the pros, but he's got the energy and enthusiasm of college."
— Izzo on the Michigan-Michigan State rivalry: "Rivalries aren't rivalries unless both teams are good. And that's what makes (this game) one of the more special games in my 37 years here."
— Izzo on his favorite sport (surprise alert!): "Football brings the best life lessons of all sports, including basketball, and that's why I love it."
— Does Tom Izzo have the passion, Herbstreit asks? "The passion is this (gesturing to the GameDay crowd). All these people. … I'm a little surprised that the 'tough guys' aren't wearing coats and you and Des …"
At that point, Herbstreit takes a little jog lap and bumps into Izzo.
"… and you football guys are wearing coats. I know Desmond would be a little soft, but I didn't think (Kirk) would.
— On the game overall: "Hell of a day! Hell of a day, Coach (Corso)!"
— And, of course, his prediction … "27-20 Spartans. Surprise!"
Tom Izzo roasting @KirkHerbstreit and @DesmondHoward for wearing coats 😂 pic.twitter.com/13ZwgK2DIE

— College GameDay (@CollegeGameDay) October 30, 2021
9:50 a.m.
A pretty awesome sign-swipe on both sides. Great little quartet below were some of the best.
On-point @CollegeGameDay signs today. Shots fired on both sides of this all-Michigan rivalry. pic.twitter.com/zflPqjHCHD

— Play Michigan (@Play_Michigan) October 30, 2021
9:39 a.m. — The College Football Playoff talk is bubbling
We'll see our first College Football Playoff rankings on Tuesday night. Michigan or Michigan State (but almost certainly not both) will be in the top 10, pending the result of today's game. An interesting conversation among the GameDay guys was brewing about Oregon and Ohio State, though.
The Ducks went into Columbus and beat the Buckeyes earlier this year, but are behind Ohio State in almost all human polls.
Some interesting prevailing wisdom: The Buckeyes should be ranked higher now. But if there's a situation of a one-loss Pac-12 Conference champion Oregon and a one-loss Big Ten Conference champion Ohio State? Maybe the tables will be turned there. And it was Herbstreit who suggested that.
Interesting.
9:28 a.m. — The Bear's Big Board
ESPN producer and GameDay mini-czar Chris Fallica (known as "The Bear") was into sports gambling because it was OK to talk about everywhere and be legal in a good number of states. His three highlighted games today:
Boise State (-2.5) at Colorado State
Purdue (+7.5) at Nebraska [Bear picks the Huskers]
Iowa State (-7.5) at West Virginia
We'll circle back with his other picks as they're shown today.
9:21 a.m. — Mel Tucker joins the show
Some highlights from Michigan State coach Mel Tucker:
"We don't have a collection of players. We have a football team."
"Aggregation of marginal gains. Everyone get a little better every day."
— He drops legendary Alabama coach Nick Saban (who was first in East Lansing, of course, when it was still the 20th century) as his biggest mentor.
"We talk about not just being ready, but being prepared. For pressure. … Now we're gonna embrace the moment and let it fly."
And the real gem: "… Yeah, I don't like Michigan. That school down the road."
Great sentiment. The answer's nope. #collegegameday pic.twitter.com/GvEJ3ghC5i

— Danny Lawhon (@DannyLawhon) October 30, 2021
9:15 a.m.
Little doubt why ESPN approved the sign at "camera left shoulder" if you know what I mean. And I don't subscribe to the whole "you can pick your friends, you can pick your nose, but don't pick your friend's nose" maxim. Could just be me. #collegegameday pic.twitter.com/OnNYtqDpZf

— Danny Lawhon (@DannyLawhon) October 30, 2021
9:10 a.m.
I hadn't seen the Paul Bunyan Trophy much before this week. Knew of The Game. Love it. A little hokey, and a lot unique.
9:07 a.m.
Stats time: Kenneth Walker III of Michigan State leads FBS with 142 rushing yards per game this year. He's also the best in the nation in yards after contact. You probably knew that. Aidan Hutchinson of Michigan leads FBS in pressure percentage with successes on almost 20% of his attempts. That's impressive, and I didn't know that.
9:05 a.m.
Gameday host Rece Davis is making sure to give some pauses every time Michigan great and 1991 Heisman trophy winner Desmond Howard is mentioned. He smiles. The Spartans fans boo.
A little fact from Lee Corso: Michigan State has won three of the past four meetings when both teams were ranked in the top 10.
Kirk Herbstreit takes another shot at Howard: "Turn all your wrath onto Desmond Howard, right there, on the right side of this set."
9:03 a.m. — You knew 2015 would be coming up
I'm not going to say anything else. Just drop the tweet and repaste the link.
That's gotta cut deep. I can still hear Sean McDonough's voice cracking in disbelief (he's great, of course). #collegegameday pic.twitter.com/rJJB9qqMzS

— Danny Lawhon (@DannyLawhon) October 30, 2021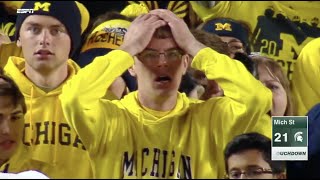 9:02 a.m. — Everyone unites against the Buckeyes
I'll just leave this one here for everyone to be happy.
No matter who wins today, this is prolly one #collegegameday sign #GoBlue and #GoGreen will both agree on. pic.twitter.com/LuMFVIojWG

— Play Michigan (@Play_Michigan) October 30, 2021
9:01 a.m. — Taylor Lewan makes his feelings known
Tennessee Titans offensive lineman (and former Wolverine) Taylor Lewan made a statement in his news conference appearance in Nashville this week that had all his rivalry feelings turned up to 11. Among other things …
"I'm not gonna say the F word, but …. (pause) Michigan State," he said.
… (pause) OK!
8:52 a.m.
On a quick SportsCenter segment, ESPN betting analyst Joe Fortenbaugh offered his thoughts on Michigan-Michigan State. The summary: Michigan State's improved defense, along with Michigan's propensity for the run game — 11th in the Football Bowl Subdivision rushing yards and 100th in tempo — has him eyeing the under 50.5 in total points.
His four other top bets of the day were:
Over 51 points in No. 1 Georgia (-14) vs. Florida in Jacksonville
No. 18 Auburn (-3) over No. 10 Ole Miss
Under 61 in No. 20 Penn State at No. 5 Ohio State
North Carolina (+3.5) at No. 11 Notre Dame
8:47 a.m.
Ah, Lee Corso and the helmet gag. I've seen it a couple times in person, and it never gets old. Seriously one of the great little moments about this show. He's still a gem.
Corso knows how to get the crowd FIRED UP in East Lansing! 🔥 pic.twitter.com/rqJnkuqXpU

— College GameDay (@CollegeGameDay) October 30, 2021
8:38 a.m.
This show (normally) is one of the few remaining places, seemingly, where folks can needle each other and most folks know it's all in a bit of fun. GameDay host Kirk Herbstreit was asked to talk about the alma mater and Ohio State, which takes on Penn State on Saturday night. He made sure he let the growing crowd know that he was bringing up the Buckeyes.
And he got boos from everyone. And relished it.
8:34 a.m. — The College Gameday signs are already out in full force
We're not even technically at showtime and there are already signs of a couple of gems.
And they're taking some fun jabs at Michigan coach Jim Harbaugh and Michigan State coach Mel Tucker even before the show technically starts.
Always enjoy the #collegegameday signs. Some of the best ones are veiled in tooth, er, truth. Good jabs at Jim Harbaugh and Mel Tucker both already this morning. pic.twitter.com/qWr3z1uVRC

— Danny Lawhon (@DannyLawhon) October 30, 2021