Detroit Lions fans know all the bad numbers, betting or otherwise, from their history: One playoff victory since 1957. Zero division titles since 1993. And Matt Millen's parting opus: The 0-16 season from 2008.
You know how it feels to have rooted for the Honolulu Blue and Silver in those games. Just imagine if you were betting on them.
Thankfully, regulated Michigan online sports betting only became a reality for sports fans here this past January.
On Sunday, it stands to reason that hundreds of Michiganders might be putting their first legal sports bet down on (or against) the Lions as they open the season against the San Francisco 49ers. (And if you're one of those folks, check out some of our beginner sports betting tips in Michigan, with some of this year's games as examples.)
After several decades of misery for old-timer fans, and an extra-special two decades of recent suckitude for the newbies, it's likely a blessing that football betting hasn't been as mainstream an activity as it is now.
Well, as it turns out, betting on the Lions would not have been nearly as bad as watching them. But … it would've been still pretty bad.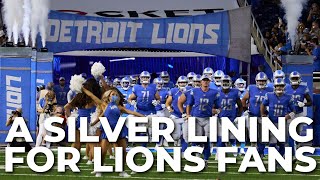 Only Cleveland Browns are worse than Detroit Lions since Matt Millen's hiring
Since the target audience for sports betting skews younger than baby boomers who remember names such as Bobby Layne, let's bring our numbers back to a more modern era.
Besides, with Barry Sanders around in the 1990s, it was a fun time to be a Lions fan. But a couple years after Sanders abruptly retired in 1999, a clear, new, dark era began for the Lions near the turn of the century.
After Michigan State alum Paul Edinger kicked the Lions playoff hopes away to close the 2000 season and ruin Christmas Eve, Lions owner William Clay Ford changed the direction of the franchise with the bold hiring of Millen away from the TV broadcast booth.
As you are painfully aware, the Lions have stumbled to a 110-209-1 mark since Millen took over the team in 2001. That's only three games better than the Cleveland Browns, the standard-bearer for bad football this century and fellow member of the 0-16 club.
Here's a look at the NFL's worst outright teams since Millen was hired in 2001.
NFL's Worst Straight-Up Records Since 2001
| | Wins | Losses | Ties | Winning percentage |
| --- | --- | --- | --- | --- |
| 32. Cleveland Browns | 107 | 212 | 1 | .336 |
| 31. Detroit Lions | 110 | 209 | 1 | .345 |
| 29. Oakland/Las Vegas Raiders | 121 | 199 | 0 | .378 |
| 29. Jacksonville Jaguars | 121 | 199 | 0 | .378 |
| 28. Washington Football Team | 131 | 188 | 1 | .411 |
Not to throw salt in the wound, but by the way, while Detroit went 110-209-1 overall in that time, the New England Patriots went 239-81, going 30-11 in the playoffs. Detroit is (cue the trumpet fanfare) 0-3.
But what about against the number?
Detroit Lions Odds: Week 1 vs. San Francisco 49ers
In betting terms, Detroit Lions pass just 3 NFL franchises since 2001
On this front, Lions bettors could actually thank Millen for some betting wins. This era has been full of occasions where the expectations have been so low for the Lions that they have cleared the low bar against the spread (ATS) in a loss.
If you're new to sports betting, the spread is the established value an oddsmaker puts on an event based on the perceived differences in ability between two teams. Here's more information on how to bet the spread and other types of football bets in Michigan.
Even though only Cleveland is worse outright than Detroit since 2001, two other teams also have worse records than Detroit against the spread, according to a data analysis from PlayMichigan that included compiling information from TeamRankings, Maddux Sports and Sports Odds History.
The Raiders (140-174-6) franchise has the worst record against the spread since 2001. There's some sweet irony here, because they now play in the sports betting capital of the world.
Next is the Rams franchise, the new team of quarterback Matthew Stafford, who are 143-169-8 ATS. Those two franchises have since moved to new states, but at least they reached the first two Super Bowls of the Millen era (even though they lost).
Hrrrmmmm …
Cleveland is the next-worst team against the spread at 143-167-10, 30th-best in the league.
At 144-167-9 ATS since 2001, Detroit is tied with the Tennessee Titans (145-168-7) in percentage points at 29th in the league.
Here are the worst NFL teams against the spread since 2001:
NFL's worst records against the spread since 2001
| | Wins | Losses | Pushes | Winning percentage |
| --- | --- | --- | --- | --- |
| 32. Las Vegas/Oakland Raiders | 140 | 174 | 6 | .447 |
| 31. St. Louis/LA Rams | 143 | 169 | 8 | .459 |
| 30. Cleveland Browns | 143 | 167 | 10 | .463 |
| 28. Tennessee Titans | 145 | 168 | 7 | .464 |
| 28. Detroit Lions | 144 | 167 | 9 | .464 |
Unlike Cleveland, Detroit often exceeded low odds bar in 0-16 season
Nothing shows off just how far the Millen era dropped the bar for this franchise than taking a close look at its lowest point.
The Lions were the first team to lose all 16 games in a season, going 0-for during the 2008 campaign. The Browns have since matched that "feat," going 0-16 in 2017.
To be fair, Millen is definitely not responsible for all the mess since he was hired in 2001, and not even all the 2008 stink. In fact, he was actually fired just a few games into the '08 season.
But comparing the 0-16 campaigns is interesting. Cleveland was 4-12 against the spread in their disaster year. The Browns continued to consistently play below the level oddsmakers set for them.
However, in 2008, the Lions actually went 6-9-1 against the spread — a fairly respectable mark, given the circumstances. I don't remember any of those games being close that season (other than the game Dan Orlovsky danced out of the back of the end zone at Minnesota).
But the Millen era had trained oddsmakers to give the Lions such lousy expectations that an 0-16 team covered the spread nearly half the time. That's quite an accomplishment for Millen to hang his hat on.
Congrats to him! (I'm sure he eagerly awaits the greeting cards.)
Lions have covered a playoff game in recent years; will they ever win one?
All of this to say: Despite being often better than the low bar of perceived expectations: No, the Lions have still not been a smart bet this century.
Taking a look at the 144-167-9 record against the spread since 2001, that means someone who bet on Detroit in all those games is down 23 units. And fading the Lions — or betting against them each game — wouldn't have been as profitable as one would think, either.
For what it's worth, if you add in the three playoff games and bet with the Lions to cover, you are actually down 24 units. Seattle (2016) and New Orleans (2011) covered in home wins against Detroit, and the Lions covered the 6.5-point spread at Dallas, losing 24-20 in the first round of the 2014 NFL Playoffs (played in January 2015).
Hey, a playoff cover! Maybe that's a start.
And just like at the start of every Lions season, there's always a chance things will turns around. Maybe with the recent good signs around the Detroit Pistons and Tigers, and some renewed hope around the Red Wings, the sad-sack Lions will join the local trend and start moving in an upward direction.
We just wouldn't bet on it.