Upsets are one of the great parts of March Madness. We've seen some pretty big upsets in the NCAA Tournament over the years, and more are likely to come in the next few weeks.
DraftKings Sportsbook in Michigan wants to help you turn those upsets into cash with a simple promotion for new users.
The sportsbook is offering a promotion that will give you a chance to win $256 off a $4 wager on an underdog.
March Madness Promo - Bet $5 Get $200 + $1,050 Bonus
1
New User Bonus. T&Cs Apply.
CBB Promo: Bet $5 Get $200
PLUS $50 Bonus Bet On Deposit 
PLUS Up to $1,000 Deposit Bonus

Gambling Problem? Call 1-800-GAMBLER

To Claim: Click Play Now

How to get +6400 odds on NCAA underdogs at DraftKings
First off, this DraftKings MI promotion is limited time and only for first-time DraftKings depositors. New users can get +6400 odds on an underdog for select Conference Tournament games and all games in the first two rounds of the NCAA Tournament.
The promotion will run throughout this week until the last game of the second round tips off next Sunday.
To participate, just do the following six steps:
Make a deposit of $5 or more into your DraftKings Sportsbook account.
Visit the "Promos" tab and pick the team you would like to boost.
You can choose any lower seed to beat a higher seed team in the available games (e.g. a 10 seed to beat a 7 seed).
Pick wisely! You CANNOT change your boosted event once you have clicked "Boost This Team."
A single-use odds boost of +6400 will be issued for your chosen team to win their match-up. Note: If the boost does not appear, refresh the page or try opting in again.
Select the boost from your bet slip before placing your bet to apply the boosted price. The best must be placed prior to tipoff for your chosen game.
As with all sportsbook promos in Michigan, there are max wagers and qualifying bets to follow. For this March Madness bonus, the max wager is $4 with one qualifying bet per user.
It also excludes live bets, parlays, free bets, cash-out bets, and voided bets.
By now you're probably asking, "Which underdog should I pick to boost?" There are, of course, this weekend's conference championships that are always worth a look. But for the sake of argument (and because we know how much March Madness is beloved), let's look closer at the NCAA basketball tournament.
March Madness history calls for upsets
The NCAA Tournament has never been short on upsets and more are sure to happen next week.
Double-digit seeds have been able to consistently upset their lower-seeded opponents. Here's a look at the most likely underdogs to pull off the stunner:
10 Seeds: 55 wins all-time vs. 7 seeds, including three wins in 2019
11 Seeds: 52 wins all-time vs. 6 seeds, including one in 2019
12 Seeds: 50 wins all-time vs. 5 seeds, including three in 2019
13 seeds: 29 wins all-time vs. 4 seeds, including one in 2019
14 seeds: 21 wins all-time vs. 3 seeds, the last coming in 2016
15 seeds: 8 wins all-time vs. 2 seeds, the last coming in 2016
16 seeds: 1 win all-time vs. 1 seeds (2018 UMBC over Virginia)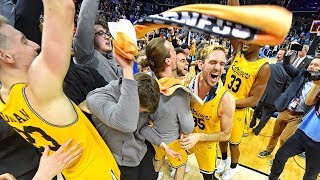 Keep an eye on the First Four
One of the recent additions to the NCAA Tournament has been the First Four. Those are two games each played on Tuesday and Wednesday to fill out the field.
Two of the games feature 16 seeds playing for a chance to face a 1 seed.
The other two are the last four at-large teams to get in playing as anywhere from 11 to 13 seeds for a chance to face a 4 to 6 seed.
Those higher seeds have gone on to success in the following round in some cases.
Since beginning in 2011, at least one of the two at-large, First-Four winners has gone on to win at least one more game in the NCAA Tournament. The 2019 tournament marked the first time that didn't happen.
In the first year (2011), VCU went on to reach the Final Four. La Salle (2013), Tennessee (2014), and Syracuse (2018) all reached the Sweet Sixteen.
Upset-minded conference winners
Other good targets for first-round upsets are conference winners that have racked up a lot of wins during the season.
They come in with confidence and tend to have playmakers that can take over a game. Both of which are key components to a winner.
Here are three current automatic qualifiers to keep an eye on this week:
Winthrop: The Big South winners are 23-1 and currently projected as a 12 seed. The Eagles own a tournament win from 2007. Their lone loss this year was by just two points.
Liberty: The Atlantic Sun champs are 23-5 on the season and projected as a 13 seed right now. The Flames picked up an upset win over Mississippi State in the 2019 NCAA Tournament.
Morehead State: The Ohio Valley Conference champs are 23-7 on the season. They are projected as a 14 seed right now. The Eagles have won three times in the opening round of the NCAA Tournament over their history.