If all goes as planned for PENN Entertainment, ESPN Bet will launch in Michigan on Tuesday, Nov. 14.
After making a deal with the sports media giant worth about $1.5 billion in August, PENN announced its intentions to launch its new offering among online sportsbooks in Michigan during its Q3 investors call on Thursday.
The only thing standing in the way is Michigan Gaming Control Board approval, which PENN feels confident it will have by that date.
ESPN Bet Michigan launching Nov. 14
PENN announced that ESPN Bet plans to launch simultaneously in 17 states where PENN has access to sports betting platforms. ESPN Bet will replace PENN's previous partner, Barstool Sports.
ESPN has already released a teaser advertisement featuring SportsCenter anchor Scott Van Pelt. The ad focuses on the cohesiveness between the ESPN and ESPN Bet apps, which will be a focus of the product.
"In connection with the launch, ESPN will be implementing an initial wave of exclusive integrations across the ESPN ecosystem, which includes 200 million unique monthly users in the US more than 12 million of whom are regular users of the nation's number one fantasy sports app at ESPN," said PENN Entertainment CEO and President Jay Snowden during the Q3 call.
ESPN has already begun using official odds on its programming and editorial content that have been provided by ESPN Bet oddsmakers.
On top of all that, ESPN's Daily Wager television program will be rebranded to ESPN BET Live starting on Nov. 10.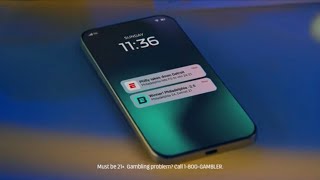 ESPN Bet Michigan launch still pending MGCB approval
In order for ESPN Bet to launch in Michigan, it still needs clearance from the Michigan Gaming Control Board.
PENN has operated among online sportsbooks and online casinos in Michigan through Barstool. However, the MGCB needs to make sure the new operations meet state regulations.
The MGCB told PlayMichigan, "like any other online operating entity, Penn Interactive will need to ensure that their renaming of Barstool Sportsbook to ESPN Bet meets our established branding and branding-related requirements, as specified under Section 4(7) of Michigan's Lawful Internet Gaming Act and Lawful Sports Betting Act, which reads:
(7) An internet gaming operator may offer internet gaming under a maximum of 2 separate brands, 1 for each of interactive poker and other casino style games. This subsection does not prohibit an internet gaming operator from using fewer than 2 brands or from using a single brand to offer any combination of interactive poker or other casino style games. Only an internet gaming operator or its internet gaming platform providers may process, accept, or solicit internet wagers under this act. All websites and corresponding applications used to offer internet gaming must clearly display the brand of the internet gaming operator or its affiliate. The internet gaming operator may also elect, in its sole discretion, to have the brand of each internet gaming platform that it utilizes be the name and logos or no more than 1 internet gaming platform provider if the internet gaming platform also clearly displays the internet gaming operator's own trademarks and logos or those of an affiliate. The internet gaming operator is responsible for the conduct of its internet gaming platform provider.
Penn Interactive remains unchanged as a provider, and it's just a rebranding from an existing, licensed provider.
Barstool customers to have seamless transition
Current customers that are still using Barstool Sportsbook will have their information immediately transferred over to ESPN Bet upon launch.
When ESPN Bet goes live, existing Barstool customers will be prompted to download the ESPN BET app.
Upon doing that, all of their account information and wallet will seamlessly transition over to the new platform, according to PENN.
No update provided on Hollywood Casino Online
Along with ESPN Bet, PENN plans to launch Hollywood Casino Online as its new online casino app in place of Barstool.
However, PENN made no mention of its iGaming plans during the latest investor call. All focus was put on ESPN Bet launching on Nov. 14. Snowden did say that states that feature both online sports betting and iGaming will certainly be a focal point of the company.
"As it relates to ESPN BET in specific states (and if there is added focus for success), I don't know that I would look at one particular state. I mean, obviously, the ones that are going to be probably the most important long term for us are states that have both online sports betting and online casino," he said.
It is unclear as of this time if Barstool will remain an online casino option on Nov. 14, or if Michigan will be going with one less online casino option until PENN is able to launch its new product.
With Hollywood Casino at Greektown currently experiencing a workers' strike, having an online casino product would help the losses PENN is experiencing during the strike at its retail location.
LEARN MORE ABOUT MI ONLINE SPORTSBOOKS: