When I went to FireKeepers Casino Hotel this summer in Battle Creek for the grand opening of their new, second hotel tower, I was betting on an enjoyable time.
Here at PlayMichigan, we love visiting casinos, traveling around this great state and finding reasons to take quick trips to do both — especially in the summertime.
The cold blackjack tables couldn't even damper my enthusiasm about a fine trip to south Michigan for a fantastic getaway at a great facility.
Here is our inside look at the growing Nottawaseppi Huron Band of the Potawatomi property in Michigan's Cereal City.
And to preface all this: Man, it's good to be out in the world again.
What new at FireKeepers Casino Hotel?
It's been a busy summer at FireKeepers, which recently launched its FireKeepers Online Casino and Michigan sportsbook.
Then, on Aug. 16, 2021, FireKeepers unveiled their second hotel tower in grand fashion.
Daredeveil Nik Wallenda traversed a tightrope about 400 feet from the original tower to the new one, while doing so more than 200 feet above the ground. Hundreds of area residents attended the spectacle, which included a ribbon-cutting ceremony and tribal drum concert.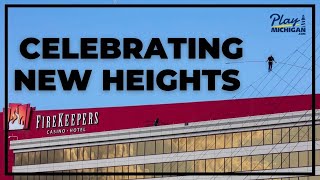 The hotel's signature restaurant, Nibi, has moved to the first floor of the new tower. There's a new front desk and lobby bar, and a second Gapi Coffee and Sweets location.
The fresh tower features 203 brand-new rooms, bringing the total to more than 400 at FireKeepers.
Let's check out the inside.
Comfortable rooms part of new hotel tower
According to the casino website, the Potawatomi name is a derivation of "Bodéwadmi," which means "the people who maintain the fire."
That's where the casino gets its name, and the fire theme is everywhere in FireKeepers.
Meanwhile, the tribe's Seven Grandfather Teachings also get due billing here, including on tremendous display in the lobby.
The teachings are: Love, Respect, Bravery, Truth, Honesty, Humility and Wisdom.
For accommodations, there's more of the same room selections at FireKeepers.
Classic, with two queens or one king-sized bed
Fireside, with a fireplace
Deluxe, with a sitting area and whirlpool tub
King Studio, with a work space and casual lounge area
Aqua Fire Suite, with a water vapor light feature (giving the illusion of fire) and a lavish bathroom
The Presidential Suite, with a modern living room, full kitchen, granite wet bar, etc.
Our Classic room featured a burnt orange scheme (more fire), a comfortable king bed, a spacious bathroom with nice pressure in the shower, and enough workspace to report on Wallenda's walk while watching the Detroit Pistons NBA Summer League game on TV.
But, let's be real. Although the FireKeepers room provides an excellent place to work and relax, we came to Battle Creek to play some games.
So it's time to hit the casino floor.
Red Hot Rewards gives freebies right away
Like any real casino veteran, the first thing we do before hitting the floor was to understand and activate the rewards account.
I've played at FireKeepers for brief stops over the years while traveling from Detroit to Chicago and back (FireKeepers is somewhere near the halfway point), but I had never become a Red Hot Rewards Club member.
But sensing an annual (or more frequent) trip west from downtown Detroit to FireKeepers, it was time to start racking up benefits.
I went to the Red Hot Rewards Club counter and was quickly helped out by a pleasant staff member for signup, which included $5 for free slot play. After earning 100 points on my first day on the table games, I earned a free spin at the kiosk and got another free $5 of slot play.
The rewards program features three tiers, with benefits including a fuel discount at the FireKeepers Pit Stop gas station, discounts throughout the property and complimentary valet and coat check. Higher tiers receive a casino host, exclusive promotional prize drawings, 50% off alcohol on property and more.
There's also a special additional tier for veterans called the Patriot tier. Those members receive a 25% discount on Classic rooms Sundays through Thursdays, a 50% discount at Mijem buffet every Wednesday (although the buffet is currently closed), 10% additional discount at all restaurants, and more.
Dacey's Sportsbook was Michigan's first tribal sportsbook
Despite the coronavirus pandemic, FireKeepers moved quickly to open its retail sportsbook in the summer of 2020.
Dacey's Taphouse was converted to Dacey's Sportsbook last June, creating the first tribal sportsbook in Michigan.
It's a nice sportsbook, with room for 125 guests on the main floor and a mezzanine area up the stairs that can seat 36 more guests.
There was no food service on this Monday (hot dogs were available for purchase), nor is there any on Tuesdays, though that arrangement could change during football season.
Dacey's has three betting windows, which were likely overrun last fall when Michigan didn't yet have online sportsbooks available.
It should be suitable this fall, especially considering the 16 sports betting kiosks flanking the windows and throughout the casino.
The bartender at Dacey's was helpful throughout the night and also spoke highly about working at FireKeepers. She was a relatively new hire herself who has been around the service industry awhile.
Detroit Lions tickets up for grabs with big bets
This fall, there's a little more incentive to bet big on the NFL at Dacey's Sportsbook, especially if you are a Detroit Lions fan.
From Sept. 1-20, any NFL wager of $500 of more in-person at Dacey's windows will get you entered into a Sept. 20 drawing for Lions suite tickets at Ford Field.
The first drawings will be held at 8:05 p.m. Sept. 20 for the Oct. 17 game against Cincinnati and Oct. 31 against Philadelphia. Then, at halftime of the Lions' Monday Night Football game against the Green Bay Packers, the drawings will be held for a pair of suite tickets on Dec. 5 against Minnesota and Dec. 19 against Arizona.
There is a limit of one win per person, and you must be present at FireKeepers on Sept. 20 to claim the prize.
The casino floor at FireKeepers Casino
Now that we made a couple sports bets at the Dacey's window, let's move to slot machines.
I'm not a huge slots guy, so I looked for titles I recognize and mowed through my free play pretty quickly.
There are plenty to choose from, as nearly 3,000 slots dominate the more than 100,000 square feet of gaming space.
Popular titles include:
Fort Knox
Hot Shot
Jaws
Monopoly Money Grab
Sopranos
Star Wars
Wizard of Oz
The FireKeepers poker room is one of the best in the state. The room features 13 tables, but no more than nine players per table because of the ongoing COVID-19 pandemic. The room is now open 24/7 again. However, although on hiatus now because of the pandemic, poker tournaments are expected to return later to FireKeepers.
The Bad Beat Jackpot, which is won by a player who loses a hand despite a four-of-a-kind or better, was into six figures in late August.
As for table games, the dealers on this particular Monday night were a little green at FireKeepers. But there were plenty of spots available at $15 tables, and servers kept you without thirst the entire night with reasonably priced drinks.
Plus, with a cozy room upstairs and a night away from home, I had nowhere to hurry off to.
More amenities at FireKeepers Hotel Casino
In addition to Gapi (coffee and sweets), Nibi and Dacey's, FireKeepers has Smoke 'N Fire, Cafe 24/7, Chi Mon-EE's and The Cake Shop for food options.
I had some excellent salmon and fresh vegetables from Smoke N'Fire and was told countless times by staff and others about the fine fare at Nibi, featuring seafood and steak. However, with the hotel tower opening that day, no tables were available at the FireKeepers staple.
There is a 24-hour-a-day fitness center with a pair of ellipticals, two treadmills and a stationary bike.
However, as for now, the pool, hot tub and sauna/steam room are temporarily closed.
More than a decade in the making at FireKeepers
After opening in 2009, FireKeepers has had more than a decade to grow and fine-tune its offerings.
Led by highly respected CEO Kathy George, the staff and property deliver a unique Michigan experience, colored uniquely by the Nottawaseppi Huron Band of the Potawatomi. They've done so, even in the face of the pandemic.
It's simply become one of Michigan's getaway gems, forming a formidable pairing with Battle Creek's attractions and Cereal City identity.
In a town known for its morning cuisine, FireKeepers has filled the evening niche quite nicely.