Many Detroit Red Wings fans will find out Thursday night what some Pistons fans found out about last month. And if nothing changes with Fox Sports Detroit, fans of the Tigers will be the next to learn their fates: They won't be able to watch their team.
The Red Wings open the season Thursday against the Carolina Hurricanes, but fans who stream television on providers such as Hulu or YouTubeTV will be left in the dark.
That is because of a dispute in renewing the streaming services' contracts with Sinclair Broadcast Group, the parent company of a regional group of sports channels that includes Fox Sports Detroit.
With the opening of Michigan online sports betting coming any day, this could have an impact on overall sports betting revenue, especially in-game wagers.
Fox Sports Detroit offers Red Wings' fans a solution
Fox Sports Detroit has promoted a campaign to get customers to switch providers on its social network channels at www.getmyhometeams.com.
The link takes fans to a website to switch over to cable carriers such as AT&T TV, DIRECTV, and Xfinity. Some of those companies have Fox Sports Detroit in higher sports tiers, but at least they are accessible.
For Hulu and YouTube, the contracts with Sinclair expired in September and October, respectively. Fubo TV is another streaming service that doesn't have a deal with Sinclair.
An FAQ section on the site says: "We have made fair offers to these streaming providers, as we have done with hundreds of others, but clearly they are not putting the sports fan first."
A similar dispute is playing out in Colorado, where Denver Nuggets and Avalanche fans cannot watch Altitude TV. It's shut out for subscribers of Comcast or DISH Network.
No end is in sight for that "childish squabble", according to an editorial from Ian St. Clair of PlayColorado.
How to watch the Detroit Red Wings in 2021 (Hint: NBC)
Despite their struggles, the Red Wings will still be carried on national television 10 times this season, including three on NBC.
However, for some of those games that are still carried on FSD, blackout rules will still apply.
The games that streaming fans could potentially watch include:
Jan. 18, vs. Columbus, noon, NBCSN
Jan. 24, at Chicago, 12:30 p.m., NBC
Feb. 3, at Tampa Bay, 5:30 p.m., NBCSN
Feb. 7, vs. Chicago, 7:30 p.m., NBCSN
Feb. 21, vs. Florida, 7 p.m., NBCSN
Feb. 28, at Chicago, 7 p.m., NBCSN
March 28, vs. Columbus, 3 p.m., NBCSN
April 4, at Tampa Bay, noon, NBC
April 19, at Dallas, 7:30 p.m., NBCSN
May 2, vs. Tampa Bay, 3 p.m., NBC
For fans missing their Red Wings, is there anything you can do? (Besides playing this YouTube video on a loop, of course.)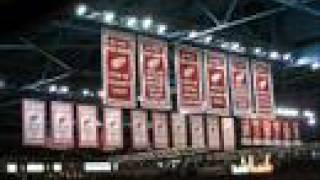 Short of hoping the parties come to an agreement, unfortunately not really. If you really want to see the Red Wings this season or Fox Sports Detroit in general, you might have to reconsider your decision to cut the cord.