Matthew Stafford represented the rebirth and subsequent death of my true Detroit Lions fandom.
Now, he will line up against the Honolulu blue and silver on Sunday while wearing another, clearly more effective, shade of blue.
Not only that, but it'll be in one of the world's best cities. The California sun will shine into one of the world's first indoor/outdoor sports complexes, SoFi Stadium, which looks truly incredible on television.
Stafford and his family look happier, freer and right at home in Los Angeles with the Rams, a true Super Bowl contender.
They will likely slaughter the 0-6 Lions this weekend, according to Michigan sportsbooks and anyone who has eyes.
And Stafford will finally know what it feels like to pound his former team, as he watched so many other quarterbacks do over the last dozen years.
... And I will be there to see this surreal spectacle play out.
Detroit Lions at LA Rams: NFL Week 7 Odds
Misery of Lions fans finally matters on national stage
There's nothing quite like being a Lions fan.
We've somewhat flown under the radar here in Detroit. Other cursed fan bases were in more visible national markets, so the plight of Boston Red Sox and Chicago Cubs fans was a more fashionable story. Even the collective Cleveland sports fan misery dominated the Midwest woe-is-me market until LeBron James delivered a title.
But those curses came, stayed a few decades, and eventually left.
And up until this past decade, being a Detroit sports fan was pretty good. I've seen more than a handful of championships from my teams and even more entertaining playoff runs.
Meanwhile, there's been nothing of note for 10 years now, and there's never been anything worthwhile from the Lions — nothing good enough to be worth enduring the painful parts, anyway.
At least we're getting noticed. Talking heads on daily ESPN debates and Sunday NFL pre-game shows, national podcasts and social media influencers have all chimed in about how miserable it has been to root for this franchise.
It's a small consolation. We just want a real football team here.
RELATED: Betting on the Lions in the Matt Millen era … just how bad would it have been?
Is Matthew Stafford great? Will we ever find out?
We had the incomparable Barry Sanders, who tried his hand and failed. Then Calvin Johnson entered the league with promise in 2007.
But with a decades-long quarterback shuffle of stiffs, we knew that until the signal caller question was answered, the Lions were ultimately going nowhere.
So after enduring an 0-16 record in 2008, the stars aligned for a true franchise QB-level talent to be available at No. 1, as the Lions drafted Stafford out of Georgia in 2009.
The arm talent was, and still is, undeniable. There was so much ability, there was toughness, and there was Johnson. These were the guys to get us over the hump.
But there was always something missing.
Maybe it was the external factors Stafford couldn't control. The run game and defense were never quite consistent enough. The front office and coaching staffs were never championship-caliber. Maybe it's just plain impossible to win with the Lions' culture baked into the cake.
Or was there something deficient with Stafford? Perhaps his leadership style, or something internally, that led to going 12 seasons in Detroit without a division title or a playoff win?
All of these elements contained at least a bit of truth, though fans debated both sides as if one had to be the absolute answer.
This past offseason's trade to Los Angeles, which brought Jared Goff and multiple NFL Draft picks to the Lions, seems like a long-term win for both sides. And it was going to confirm either narrative once and for all.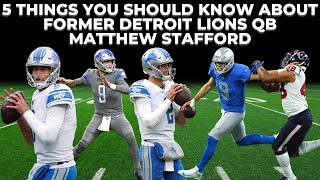 Early Rams' success is nice, but doesn't tell the whole story
So far, so good.
But Stafford wasn't brought to the Rams to win October games, and certainly not ones against the Lions.
The true tests are ahead, and the Rams enter Week 7 with about a 9/1 chance of winning the Super Bowl, give or take, depending on your preferred sportsbook.
But there's a place deep in the heart of many Lions fans that know it's a sure thing.
The Same Old Lions mentality, a defeatist theory that's been proven right time and time again, dictates that of course Stafford will win the big ones right when he leaves Detroit.
If not this year, then certainly soon.
Meanwhile, the Lions will be right back at the top of the draft, trying to find the next Stafford, with a ceiling of big numbers and nothing of note in the win column.
And a floor of Chuck Long, Andre Ware and Joey Harrington.
Could a black swan event fix the Lions?
For years in Detroit, late radio host Jamie Samuelsen and his partner Bob Wojnowski, also a Detroit News columnist, talked about black swan events.
These are things that come as a surprise, can only happen once, and can only happen against the Lions.
Justin Tucker doinking a 66-yard field goal off the crossbar for Baltimore this year certainly qualifies.
Recently, sports curses have only been lifted after crazy events precede them.
The Red Sox had to overcome a 3-0 deficit against their biggest rival to move forward. The Cubs needed to give up a late-inning Game 7 homer and endure a rain delay to break their curse.
Cleveland needed LeBron.
Maybe Stafford winning a Super Bowl the year after leaving the Lions, in glitzy LA of all places, is the black swan event needed to push things to such a place where it can only get better.
OK, probably not. But the consolation prize of watching a good Detroit soldier get to the top qualifies as good enough for us.
Detroit fans rooting for Stafford to get it done
Overwhelmingly, Detroit fans are rooting for Stafford this season, despite Rams' wins actually hurting the draft position of picks used to acquire him.
The quarterback acknowledged as much in comments to the media on Wednesday.
"I could see how it could be very easy for people to feel the other way," Stafford said. "And for people to take some happiness in any kind of success that any former player is having away from their building is really just a testament to them as well.
"That's the kind of people they are in Detroit."
It's not all magnanimity. We need something to root for in Detroit on Sundays.
So when a Michigan transplant friend in California texted me last week that he had an extra ticket for Sunday's 4:05 p.m. game, I figured it was worth it to get on a plane.
Go see LA. Hit the coast. Watch our supposed savior one more time.
A la Rob Lowe, I'll be wearing an NFL shirt — Lions gear is just too embarrassing on the road.
But I'll be rooting for No. 9: The man who once renewed our hope with his promise, then took it away (maybe forever) with his failure.
Unless his redemption in the sun can be salvation for us all.