The 2021 NFL Draft provided plenty of fodder for professional football fans. However, there was plenty to dissect when it comes to the two big college football programs in Michigan.
Michigan had a big draft weekend, while Michigan State saw a lengthy streak come to an end.
Michigan Wolverines see eight drafted
Despite a rough 2020 season that saw it go just 2-4, the Michigan Wolverines were mentioned often in the 2021 NFL Draft.
Michigan had eight players selected, tying for fifth-most of any college program in the country.
The eight Wolverines selected were:
First Round — No. 21 to Indianapolis: DE Kwity Paye
Third Round — No. 68 to Atlanta: OT Jalen Mayfield
Third Round — No. 89 to Houston: WR Nico Collins
Third Round — No. 102 to San Francisco: CB Ambry Thomas
Fifth Round — No. 177 to New England: LB Cameron McGrone
Fifth Round — No. 184 to Baltimore: FB Ben Mason
Sixth Round — No. 202 to Cincinnati: RB Chris Evans
Sixth Round — No. 225 to Washington: LS Camaron Cheeseman
Only Alabama, Ohio State, Georgia and Notre Dame had more players selected than Michigan.
Michigan State Spartans get shut out; Michigan trolls
One thing that has been commonplace in the NFL Draft for decades is a Michigan State player being selected.
However, the Spartans came up empty in 2021. As such, an 80-year streak ended for MSU.
In true rivalry fashion, Michigan found a way to point that out. Defensive assistant Ryan Osborn sent out a retweet highlighting that information with a caption of "Hate to see it…#GoBlue."
As you'd expect, the state's social media circles turned into a firestorm.
Michigan State fans were quick to point out that the team without a player drafted defeated Osborn's Michigan squad in Ann Arbor, 27-24 on Oct. 31.
If anything, it's worth wondering why Michigan struggled so much with so much pro-level talent. The Wolverines have finished third or worse in the Big Ten East Division in five of Jim Harbaugh's six seasons.
Michigan State was in the midst of a transition under new coach Mel Tucker. The Spartans were just 2-5 last season and have a lot of roster turnover in recent years.
Western Michigan Broncos make a small splash
A third program in the state quietly made an impact in the NFL Draft.
Western Michigan was the only one of Michigan's three Mid-American Conference schools to get a player selected last weekend.
Taken from the Broncos were:
Second Round — No. 56 to Seattle: WR D'Wayne Eskridge
Fifth Round — No. 155 to San Francisco: OG Jaylon Moore
Eskridge is the next in a strong lineage of draft-worthy Western Michigan receivers. He joins the likes of Greg Jennings and Corey Davis.
Western Michigan was 4-2 during the shortened 2020 season.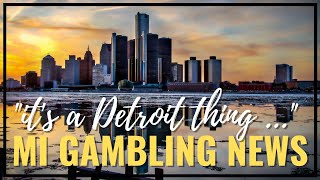 U-M, MSU have prospects for 2022 NFL Draft
Even through the struggles of 2021, Michigan is still among the top favorites in the Big Ten next season.
DraftKings Sportsbook lists Ohio State as the clear favorite at -110. Michigan joins Penn State as the next in line at +700. Michigan State is among the bigger longshots at +5000.
In the Big Ten East race, DK lists Ohio State as a -230 favorite. Michigan comes in at +450, while Michigan State is dead last in the race at +2500.
When it comes to national title odds, Michigan is listed at +15000 by William Hill Sportsbook. Michigan State is at +30000.
When draft time comes around next year, the Michigan college football programs should again have draftable talent. Michigan could possess some first-round options. Aidan Hutchinson, a 6-foot-6 edge rusher, is projected as a late first-round option by CBSSports.
Other Michigan draft prospects for 2022 include:
Daxton Hill, safety
Ronnie Bell, wide receiver
Ryan Hayes, tackle
Brad Hawkins, safety
Hassan Haskins, running back
Michigan State is hopeful to start a new draft streak next season. Here's some hopeful draft prospects for the Spartans:
Anthony Russo, quarterback
Xavier Henderson, safety
Drew Jordan, defensive end
Kevin Jarvis, offensive lineman
AJ Arcuri, offensive lineman