For most players, Michigan's online lottery instant win games are something of a time sink. Like Candy Crush or Words With Friends, they're ways to inexpensively pass some time.
But unlike "free-to-play" games that charge you a few dollars for premium upgrades and extra lives, online lottery games always offer that chance to maybe, just maybe get lucky and hit a big jackpot.
For one Michigan woman that became a reality, as a $30 deposit turned into a $75,000 payday.
"I deposited $30 into my online account and played it up to $160 and almost cashed out," said the 29-year-old from Marshall, Michigan. "I decided to play a bit longer and got down to $44, and that's when I hit $75,000!"
"I looked at my phone so many times to make sure that what I was seeing was right," she added. "I even took a screenshot and sent it to a few people to make sure I'd won."
The game she played is called Treasure Bay, and her win was captured in the video below.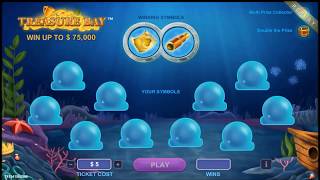 The woman told lottery officials she planned on using it to put a down payment on a house.
"I'm going to be smart with this money and make sure I put it to good use," she said. "I feel like I've got a lot of good karma right now."
Online lottery instant win games have mass appeal
Instant win online lottery games are a bit different than typical scratch-offs.
As seen in the woman's jackpot video, online instant win games are close cousins of online slot machines. As such, they boast a far wider appeal than most traditional lottery products. That's helped the state expand its lottery player base and attract new, younger customers.
In addition to less monotony and more fun, online instant win games wield many advantages over traditional scratch-off or pull-tab tickets:
You can play the games at a much lower price-point; traditional scratch-offs start at $1 whereas online games weigh in at as few as five cents;
The gameplay is faster with over 50 games available at the click of a mouse;
The lottery deposits winnings directly into your account;
There's no mess or cleanup from scratching tickets; and
You don't have to work out whether your ticket is a winner; the game does that for you.
According to the Michigan Lottery, since online games debuted in 2014, more than 750,000 players registered accounts (about eight percent of Michigan's population). In 2017 alone, lottery players won more than $535 million playing games online.