For a few years, lawmakers and regulators across the country have tackled sports betting on a state-by-state basis.
Elected officials might crib some legislative language from another state here. Regulators might borrow a rule from another locale there. Each state comes up with its own individual recipe.
But those differences across jurisdictions also add more layers for operators to navigate. And they may have contributed to the first known violations by Michigan sports betting operators.
Fox Bet, PointsBet had NFL Draft odds up for too long
Fox Bet and PointsBet were in apparent violation Thursday of a Michigan Gaming Control Board guideline to take NFL Draft markets off the board the night before the selections are made.
According to the board's sports wagering catalog, "for an approved player draft, betting on the draft shall stop at the close of business (at 11:59pm) the day before the draft takes place."
Fox Bet had their first-round draft markets available for wagering until about noon Thursday. Earlier, PointsBet had most taken down, but one wager was available on its "Booster Odds" listing until near lunchtime.
PlayMichigan was able to place bets at both operators Thursday morning. The draft was to begin on Thursday night.
When contacted Thursday, MGCB spokesperson Mary Kay Bean said the board does not comment on alleged violations.
Michigan online sports betting launched Jan. 22, and there has not been a known violation by any operator until this situation.
Splitting the deadline difference is unnecessarily complicated
Michigan's NFL Draft rules is similar to Nevada's, where markets are taken off the board a day ahead of the draft. NFL Draft markets were removed from sportsbooks there at 5 p.m. Pacific Time (8 p.m. Eastern) on Wednesday. Iowa and Virginia do not allow bets on non-sporting events such as drafts. Meanwhile, NFL Draft betting was still allowed Thursday in newer sports betting states such as Colorado, Illinois, Indiana and Oregon.
Safeguards for markets such as the NFL Draft are a good idea. There's merit to Iowa, for example, not permitting wagers on off-field events like drafts. When outcomes are determined by decisions of team executives and not on-field scenarios, information gets around. The new industry shouldn't be too lax about unwittingly opening the door to these shifts.
But there's also demand for these markets, and operators understandably push for them. It's reasonable that many states allow the wagers. too.
Michigan apparently tried to have it both ways by allowing the markets but setting an advance deadline. Splitting the difference, as it were, needlessly added another wrinkle for operators. Even more strangely, the draft is considered three separate events over three days. That means, in theory, an operator could have a second- or third-round market up until near midnight Thursday.
But will the first round even be over by midnight? Another overly confusing scenario.
This approach is also not consumer-friendly. Many recreational bettors don't think past the present day's slate when making wagers.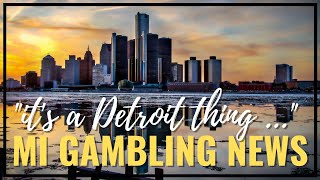 Slap on the wrist shouldn't have lasting impact
All that being said, Michigan's NFL Draft rules are … well, the rules. Providers knew them when setting up this year's NFL Draft markets.
There should be procedures in place for companies that miss these nuances. When thinking logically, we're talking about large companies that are also growing in personnel size and geographical footprints. Perhaps a hiccup like this is a reminder of the growing pains of expansion.
Such a mindset is true for the Michigan market and the industry as a whole as well. Although there was a year in lead-up time before the launch of online sports betting, issues were going to come up in time.
Brandt Iden, who pushed sports betting legislation through Lansing, told PlayMichigan last week that there would inevitably be some clean-up legislation as the market matures.
Now, everyone should take a breath here, too. These aren't monumental mistakes by the operators and shouldn't cause too much harm. A small fine could cut into the bottom line a bit, but that's the price one pays in regulated markets. And regulated markets help foster consumer trust and confidence.
And heck, even though it's my job to follow these topics for a living, it wasn't until earlier this week that I recalled the draft betting shutdown deadline after my editor reminded me.
Oversights happen … but that's why we have oversight.