A tightrope walk seemed an appropriate way to celebrate a momentous Monday at FireKeepers Casino Hotel in Battle Creek.
Besides, after the major construction of a second, 203-room hotel tower during a global pandemic, what's walking more than 400 feet (while 200 feet above the ground) without a safety net?
But just like FireKeepers pulled off the tower project, world-renowned daredevil Nik Wallenda also made it from start to finish on Monday: Slowly but steadily, and ultimately safely.
Wallenda traversed the tight rope just 5 seconds shy of 10 minutes on Monday, living up to the standard set by the massive construction project.
It was the start of a big week for FireKeepers, as the Nottawaseppi Huron Band of the Potawatomi casino is also the title sponsor of Sunday's NASCAR race at Michigan International Speedway in Brooklyn.
There, the FireKeepers Casino 400 will be contested at 3 p.m. EST on NBC Sports Network.
The tribe also launched internet gaming this summer through FireKeepers Online Casino, along with an online sportsbook.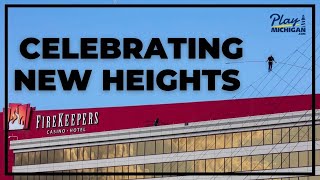 Nik Wallenda survives, entertains during awesome stunt
Wallenda, known as the "King of the Highwire" and holder of 11 Guinness World Records, not only made it across, but entertained the crowd of hundreds along the way.
Holding a long stick for balance, Wallenda thrilled by taking a knee before reaching the halfway point.
The DJ was also on point, playing "The Heat Is On" when Wallenda started. Then, "Three Little Birds (Everything's Gonna Be Alright," and "I Won't Back Down" to finish.
During the Tom Petty closer, Wallenda told the crowd, and emcee and FireKeepers VP Jim Wise, his inspiring tale.
After personal and family tragedies as the Great Wallendas built their name, Nik Wallenda was away from the business a while. He didn't want to get back on the wire.
A turning point conversation
"During that time off, I didn't realize there was a seed of fear planted," he told the crowd. "I started to water that fear.
"It's so important that we control our inner dialogue, the things we allow into our minds. And how far down that rabbit trail we allow our minds to go."
After deciding he was going to quit, his wife reminded him how he signs every autograph with "Never Give Up."
"You do what you do to inspire people that nothing is impossible," Wallenda recalled his wife saying. "And you're going to give up? That's not the man I married."
Wallenda is back on the tightrope and said he plans to rejuvenate a fading industry later this year, opening a circus in New York.
Second hotel tower a key date for FireKeepers
Monday joined a couple very significant dates as pillars of FireKeepers history, Wise declared. And the celebration was earned: The project took 470,000 work hours for skilled tradespeople.
There was the Aug. 5, 2009 opening of the casino, and the Dec. 12, 2012, opening of the first hotel tower.
And now, a second hotel tower brought upon by strong demand for rooms at the AAA Four Diamond Resort.
"Not bad for a former cornfield, eh?" said Jamie Stuck, tribal council chairperson of the Nottawaseppi Huron Band of the Potawatomi.
The new eight-story hotel tower was designed by JCJ Architecture, of Hartford, Conn., and built by Clark Construction Co. of Lansing.
The 39,000 square foot first level will deliver a vibrant new lobby bar, front desk and the second Gapi Coffee and Sweets location. FireKeepers' signature restaurant, Nibi, has a new location with seating for approximately 125, expanded wine storage and presentation, and a private dining area for up to 20.
There will be new luxurious high limit gaming sections for slots and table games, plus a new bar and VIP lounge for select Red Hot Rewards Club members.
"We're just so proud to bring this to the community and south Michigan," FireKeepers CEO Kathy George told PlayMichigan.
We'll have more details about FireKeepers Casino Hotel soon at PlayMichigan in a detailed report about our visit.