Super Bowl 55 is just a few days away. Maybe you aren't sure what to think of the Kansas City Chiefs or the Tampa Bay Buccaneers when it comes to the winner on Sunday. If so, perhaps prop bets are where you should lay down your money.
With online sports betting in Michigan, the 2021 Super Bowl is a hot commodity. In fact, most MI sportsbook apps have an array of prop bets to choose from alongside the traditional moneyline, spread, and total.
Here's a refresher on proposition bets in Michigan and a closer look at some bets that could have you smiling come Sunday night.
NFL Big Game Promo - Bet $5 Get $200 + $1,050 Bonus + Up to $150 in No Sweat Bets
New Customers Only. T&Cs Apply
DraftKings Promo: Bet $5 Get $200

PLUS Up to $150 in No Sweat Bets 

PLUS $50 Bonus Bet On Deposit 
PLUS Up to $1,000 Deposit Bonus

Gambling Problem? Call 1-800-GAMBLER

To Claim: Click Play Now

Just what qualifies as a prop bet?
If you are new to prop bets, perhaps you aren't quite sure just what they are and why they exist.
Prop bets, or proposition bets, are any bets pertaining to the game that aren't a wager on the traditional point spread, moneyline, or total for the contest themselves.
A prop bet for Sunday's game will fit into three different categories.
Player Prop: A wager on a specific player. Example: Tom Brady passing yards
Team Prop: A team-specific wager. Example: Kansas City Chiefs rushing yards
Game Prop: A wager specific to the game. Example: Will a safety be scored?
Prop bets will often be an over/under line or a straight-up moneyline. And there are often a huge selection of them available at the books. For instance, BetMGM Sportsbook lists 317 total markets for Super Bowl 55. The ever-popular coin toss bet is one of them, but betting on the Gatorade color that will be poured on the winning coach is not yet approved in Michigan.
As of Tuesday morning, the Chiefs were listed as a 3-point favorite against the Bucs. So oddsmakers in Michigan expect Super Bowl LV to be a close game. In that case, a prop bet might just be your thing. Here are five we found that might be worth a look, plus a few tips from the fellas over at PlayPicks.com.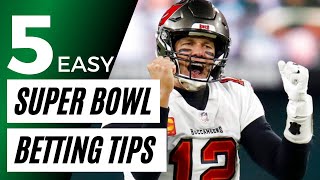 Prop bet #1: Tom Brady vs. Patrick Mahomes
Two of the biggest prop odds will be the total passing yards for Tom Brady and Patrick Mahomes each.
DraftKings Michigan lists Mahomes with an over/under of 325.5 yards. Brady is listed with an over/under of 295.5 yards.
Brady is appearing in his 10th Super Bowl. He has shown the ability to still sling the ball around this season. Over three postseason games in 2021, Brady went over 295.5 yards just one time.
During the season, he went over that mark eight times. One of those occasions was against the Chiefs, where he threw for 345 yards in a 27-24 loss.
Mahomes' number is pretty aggressive. He threw for exactly 325 yards against Buffalo and just 255 against the Browns this postseason.
Despite having an MVP-caliber season, Mahomes has only thrown for 326 yards or more in seven games during the regular season. One of those was against Tampa, where he threw for 462 yards.
Prop bet #2: Player to score the first points
Who will be the first player to put points on the board?
According to William Hill, both kickers (Ryan Succop and Harrison Butker) are co-favored at +500. When it comes to the non-kickers, Travis Kelce and Tyreek Hill of the Chiefs are the favorites at +750 each.
Keep in mind that a TD pass is credited to the receiver, not the passer.
Kelce and Hill have been unstoppable in the postseason, combining for over 500 receiving yards. However, it's been Kelce that has been the TD target. He has 3 TD receptions compared to none for Hill.
During the regular season, Kelce caught 11 touchdown passes. Hill had a team-high 15 TD catches.
Prop bet #3: Will Shaquil Barrett have a sack?
Defensive players get a betting spotlight more than usual during the Super Bowl. Kansas City vs. Tampa Bay may turn out to be a defensive battle more than an offensive race.
One name to keep an eye on is Tampa Bay's Shaquil Barrett. The 7th-year linebacker is listed at -115 to have a sack according to PointsBet Michigan.
Barrett has been very disruptive this postseason, as he has 3 sacks in three playoff games. He also had 8 sacks during the regular season.
In the NFC Championship, Barrett put up three sacks. In the regular season meeting with the Chiefs, Barrett recorded a sack as well.
With the Chiefs having to shuffle up their offensive line due to the Achilles injury to left tackle Eric Fisher, the Bucs are likely to dial up the pressure on QB Mahomes.
Prop bet #4: Will Harrison Butker miss a field goal?
Even the kickers can't escape the barrage of prop bets for the Super Bowl. You can bet on how many points a kicker will have, will there be an opening touchback, how many field goal attempts there will be, and more.
One interesting wager FanDuel has involves this question: Will KC's Harrison Butker miss a field goal? Yes carries a +260 line, while No is listed at -370.
Butker has missed a FG and a PAT (point after touchdown) over the postseason already, but he was 25 of 27 on the season on his attempts.
Still, Butker missed six PAT's during the regular season, and all of his misses this season, field goal or PAT, were outdoors.
In 2020, Butker had just one attempt in the Super Bowl, which was a successful 31-yard FG.
Prop bet #5: The coin toss
It doesn't get any simpler than this. And this bet is a popular pre-game prop for any Super Bowl. In Michigan, the outcome of the coin toss is available at the following sportsbooks:
For the most part, this bet is almost entirely up to chance. You have a 50/50 shot of getting it right. But for argument's sake, of the 54 Super Bowls, tails has been the more likely outcome. It has hit 29 times, while heads has hit 26 times.
Recent history is with tails as well. It has landed in the last two Super Bowls and in six of the last seven games.
Michigan also added more coin toss markets to the menu on Thursday. Some are now available from operators. Check out details of the additions here.