We are just two days away from the offseason highlight of pro football. What the Detroit Lions' NFL Draft pick at No. 7 will look like has been debated for many, many weeks.
As the hours count down closer to Thursday night, here's a breakdown of how the Lions might proceed.
Quarterbacks likely to shape top 10
The 2021 NFL Draft gets underway at 8 p.m. ET Thursday and will air live on ESPN and the NFL Network.
As has been the case in recent years, quarterbacks are the story of the draft as it approaches.
According to most sportsbooks, QBs are expected to be taken with each of the first three selections.
Clemson's Trevor Lawrence is the overwhelming favorite to go No. 1 to the Jacksonville Jaguars. DraftKings Sportsbook lists him at -10000 to be taken first.
The New York Jets have the second pick. DraftKings lists BYU QB Zach Wilson as the likely selection. Wilson is getting -10000 odds to be selected No. 2.
At No. 3, Alabama QB Mac Jones is a -305 favorite to be selected by the San Francisco 49ers.
At No. 4, the Atlanta Falcons could be the team to shift the flow of the draft. Trey Lance, the QB from North Dakota State, is an option. Florida tight end Kyle Pitts has also been discussed. Both men are listed with an over/under of 5.5 for draft position.
Trading seems to be among Lions' best options
When it comes to Detroit, there are many needs. The Lions could use help up front, at receiver and — well, nearly all over the defense.
With so many needs, Detroit is an attractive option for trades.
Should one or more of the top five quarterbacks be available at that seventh slot, Detroit is likely to get some phone calls when on the clock.
Along with the top four, Justin Fields out of Ohio State is considered a top-10 prospect as well. Fields is listed with an over/under of 7.5 for draft position.
Reports indicate that the Lions actively want to trade out of the No. 7 spot.
Mock draft projections have shown the New England Patriots as a possible suitor. New England holds the 15th pick.
The Denver Broncos (No. 9) could also be eyeing a slight move up.
Will Lions go big at No. 7?
Trades are great when talking with your buddies. But in reality, they require a partner and something of value being received.
Should Detroit not get that trade option, there are still a lot of intriguing options at No. 7
Based on over/under draft positions, the following players seem to be the prime targets:
Florida TE Kyle Pitts – Over/Under 5.5
LSU WR Ja'Marr Chase – Over/Under 5.5
North Dakota State QB Trey Lance – Over/Under 5.5
Oregon OT Penei Sewell – Over/Under 6.5
Ohio State QB Justin Fields – Over/Under 7.5
Northwestern OT Rashawn Slater – Over/Under 9.5
Fields or Lance are intriguing if available, but seem unlikely, given financial realities of the Lions' situation. In the trade that sent Matthew Stafford to the Rams for Jared Goff and a couple of first-round picks, Detroit had to commit to Goff for a few years.
Drafting a QB this year seems like it would waste a year of the rookie contract on the selected player.
Based on what we have heard from new head coach Dan Campbell, the Lions want to build toughness up front.
Should the Lions' NFL Draft pick stay at No. 7, Sewell or Slater seems to be the most obvious options in that lens.
Taylor Decker is locked in at starting left tackle for Detroit, but the Lions could shore up the right tackle position with the selection.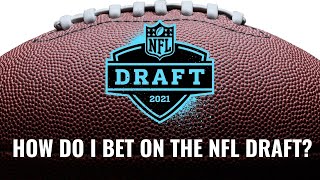 Micah Parsons, receivers could be surprise picks
What's an NFL Draft without some surprises?
Although the Lions have some obvious options, there are still some dark horses they could take at No. 7.
Peter King of Pro Football Talk says that Lions special assistant Chris Spielman has a lot of influence on the team, and he is smitten with Penn State linebacker Micah Parsons.
DraftKings lists Parsons with an Over/Under of 13.5 for draft position. However, he is a clear -305 favorite to be the first linebacker selected.
Detroit is also in need of wide receivers after electing not to re-sign Kenny Golladay or Marvin Jones Jr.
Although Chase and Pitts are considered top options, Alabama receivers DeVonta Smith and Jaylen Waddle have both been connected to Detroit over the months of draft hype.
Waddle is listed at 10.5 for his Over/Under draft position, while Smith is at 11.5.
As we know, taking a receiver is something the Lions are accustomed to in the first round. However, Parsons seems like the most likely selection if Detroit goes rogue.
BetMGM gives update on Lions' markets
BetMGM provided an update Monday on how the betting markets are shaping up for the Lions.
According to the operator, 47.1% of handle is wagered on Detroit taking an offensive lineman with their first pick; 26.3% of money is on quarterback; and 19.3% of money is on wide receiver.
On Tuesday afternoon, BetMGM had wide receiver at +105 odds for Detroit's first position drafted, quarterback at +400 and offensive lineman at +450.
BetMGM also reported that 20.9% of handle on which team will draft Parsons is on the Lions. That's the third-most money bet for a team, behind the Giants and Raiders. On Tuesday, the BetMGM market had the Lions tied with Raiders and Chargers at +500 for favorites on Parsons to go there.
The Lions are garnering the second-most bets in the "Which team will draft Justin Fields?" market. For the Ohio State quarterback, 23.5% of money wagered is on Detroit, trailing only Denver (25.5%). That market was unavailable Tuesday afternoon.
The Lions also had the second-most money wagered on them for the "Which team will draft Trey Lance?" market. On Monday, 16.2% of money was on Detroit there, well behind San Francisco (59.8%). The Lions were tied Tuesday for fourth-best odds for Lance at +800.