Considering roulette is one of the most popular games in both land-based and online casinos, most Michigan online casinos are happy to host at least one, if not several, versions of the game.
The difference between roulette at the state's land-based and online casinos is the graphic interface you see on the screen when you play online only mimics the wheel spin.
Michigan online casinos don't use the same physical casino equipment and determine the outcome of each roulette spin using a computerized random number generator instead.
There's also now live dealer roulette at many Michigan online casinos.
Play online roulette at the top MI casinos
Rank
Casinos
Bonus
Features
Play
Is Roulette Legal In Michigan?
Yes. The Michigan House and Senate both passed an online gambling bill in 2019. Then, in December 2019, Michigan Gov. Gretchen Whitmer signed that bill into law. Online casinos went live Jan. 2021
Odds/Payback Rate On Roulette In Michigan
There are basically two types of roulette found at Michigan casinos.
If a casino says it has roulette, it has either American Roulette, which is roulette with a double zero slot and a Return to Player (RTP) of 94.74%, or European Roulette, with just one zero and a 97.29% RTP.
Several Michigan land-based casinos have Single Zero Roulette, which is the same thing as the European version, with just one zero and a 97.29% RTP. Statistically speaking, it has among the worst MI casino game odds you'll find.
Of course, several of the state's land-based casinos also offer a few twists on the game, including:
Blaze Roulette: Blaze Roulette is roulette on a Blaze table with an LED lightbox beneath the gaming surface. It is basic American Roulette with an RTP of 94.74%, but the table which features animations and prompts and clearly displays winning numbers.
i-Table Roulette: i-Table Roulette is basic American Roulette with an RTP of 94.74%, but the table features electronic betting screens, allowing you to play traditional roulette with the convenience and speed of electronic betting.
Virtual Roulette: Virtual Roulette is basic American Roulette with an RTP of 94.74% on a machine. It is video roulette, and the closest thing you'll find in a casino to playing roulette online. Virtual roulette features electronic betting, and while you see a roulette wheel and a ball on the screen, no physical wheel or ball are used. The outcome of each spin is determined by a computerized random number generator.
Online Roulette Variants
Michigan online casinos aren't constricted by floor space. So, while land-based casinos might offer one, two or even three types of roulette, online casinos can offer several more variations of the game.
Here's a look at the type of roulette games you can expect to find online in Michigan:
European Roulette: One zero and a 97.29% RTP.
American Roulette: A zero and double zero slot pushing the RTP down to 94.74%.
Double Bonus Spin Roulette: American Roulette offering two free chances to win on all bets when the double bonus spin is triggered. This pushes the RTP up from 94.74% to 98.064%.
French Roulette: One zero, plus the 'La Partage' rule pumping the RTP to 97.3%. La Partage gives you half your even-odds bet back if zero hits.
Advanced Roulette: Basic European Roulette with a 97.29% RTP featuring special betting panels.
Live Roulette: American Roulette live from a studio inside a local casino featuring online betting and interactive viewing.
Double Ball Roulette: Two balls gives you more chances to win and improves the RTP to 97.3%.
Roulette Royale: French Roulette with some additional side bets and an RTP of 97.3%.
Three Wheel Roulette: Roulette with three European Roulette wheels means three different chances to win, improving the RTP to 95.03%.
Michigan Specific Rules For Roulette
According to the rules for casino gaming put together by the Michigan Gaming Control Board, Detroit casinos are free to take as small or as big a bet as they want on any game, including roulette.
However, table limits are set as a part of the rules of each game submitted to the board and must be clearly posted for the public to see. Of course, casinos are free to amend the minimum and maximum wagers as long as the new maximum is not above the house maximum.
All the casino needs to do is post a sign at the table and advise all players.
That basically means the sky's the limit on roulette in Michigan, as long as the casino lets everybody know.
The Basics Of Playing Roulette
Roulette is that game you see inside casinos played with a numbered red, black, and green colored wheel and a small ball.
You crowd around the wheel with other players and place bets on one or more of the numbers, groups of numbers, and colors on the table beside it.
A casino staffer spins the wheel and sends the ball rolling inside in the opposite direction. Wherever the ball lands determines the outcome of the bets.
European vs. American Roulette
There are European Roulette wheels which contain 36 numbers with red and black colors, plus a single green zero. There are also American Roulette wheels which contain 36 red and black numbers, plus a green zero and a green double zero.
That single extra number makes a bigger difference than you might think. The house edge on European wheels stands at 2.3% while it's 5.26% for American wheels.
Michigan online casinos will employ both American and European roulette wheels. Plus, they should also feature a variety of roulette games with different rules and bets.
The big difference between roulette at Michigan land-based casinos and Michigan online casinos is the online version employs a graphic interface to mimic wheel spins while a computerized random number generator determines the outcome.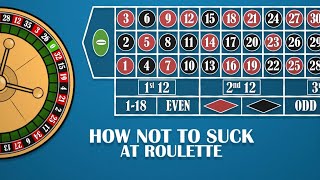 Roulette Strategy And Tips
Roulette is a simple game in which luck plays the largest role in whether you win or lose.
That said, spreading your money around the table is probably the wisest approach. You won't maximize your net profit with each win, but you'll be winning more often.
Try some of these basic roulette tips as well:
Tracking for maximum stacking
If you're playing roulette at a land-based casino, you should be tracking the results. Every wheel is different and if you track the results and look hard enough, you might discover a wheel's tendencies. Casinos will even help you by listing the results on a board beside it.
You can even use smartphone apps that help you track wheels and plough through all the data to find the trends.
This is the best brick-and-mortar roulette strategy out there, but unfortunately, it isn't worth a thing online. With the physical wheel traded in for a random number generator online, there's nothing to track.
You can track an online roulette wheel all you want, no pattern will emerge. So, don't waste your time.
The American way
As we said earlier, there are two types of roulette at Michigan casinos: American Roulette with a zero and double zero slot and an RTP of 94.74% and European roulette with just one zero and a 97.29% RTP.
The difference of the added double zero slot on American Roulette may seem, but as you can see it has a major impact on the odds of winning. An almost three percent RTP difference represents real money that ends up in the casinos pocket instead of yours.
That means you should avoid American Roulette as much as possible, sticking to roulette wheels with just a single zero, whether you're playing online or live.
When 50-50 isn't really 50-50
Roulette's outside bets, even/odd or red/black, look like 50-50 propositions. However, the zero and double zero on the wheel mean they aren't. If the ball lands on one, these outside bets are all lost, making the chance closer to 48%.
Of course, you can bet on the outside and win regularly. The best way to do it is to pick one bet and stick to it. Over the long haul, you'll pretty much break even, but you may make a small profit taking advantage of a short-term trend.
Bankroll management
When it comes to roulette, or any other casino game for that matter, you should always be betting within your means. Set some kind of limit for losses and stick to it. While you're at it, set a limit for wins and stick to that as well.
The idea is to manage your bankroll and that's more about limiting losses than it is about maximizing winnings.
Michigan Roulette Tables Near You
Just about every one of Detroit's three commercial casinos and the 23 tribal casinos across the state offer some form of roulette.
This includes the following list of Michigan casinos with plans to launch online casinos as soon as they can:
MGM Grand Detroit
Address: 1777 Third Ave., Detroit, Michigan
Roulette games at MGM Grand: Roulette, Single Zero Roulette
Owner: MGM
Online casino partner: GVC Holdings (MGM Online Casino)
Greektown Casino-Hotel
Address: 555 E Lafayette St., Detroit, Michigan
Roulette games at Greektown: Roulette (Single Zero), Roulette (Double Zero)
Owner: VICI Properties/Penn National Gaming
Online casino partner: DraftKings Casino in Michigan
MotorCity Casino Hotel
Address: 2901 Grand River Ave., Detroit, Michigan
Roulette games at MotorCity: Roulette, Single Zero Roulette, Blaze Roulette
Owner: Marian Ilitch
Online casino partner: Flutter (FanDuel Casino Michigan)
Turtle Creek Casino and Hotel
Address: 7741 M-72, Williamsburg, Michigan
Roulette games at Turtle Creek: Roulette
Owner: Grand Traverse Band of Ottawa and Chippewa Indians
Online casino partner: Caesars Casino
Four Winds Casino New Buffalo
Address: 11111 Wilson Rd., New Buffalo, Michigan
Roulette games at Four Winds Casino: Roulette
Owner: Pokagon Band of Potawatomi Indians
Online casino partner: Scientific Games
Firekeepers Casino and Hotel
Address: 11177 E. Michigan Ave., Battle Creek, Michigan
Roulette games at Firekeepers: Roulette
Owner: Nottawaseppi Huron Band of Potawatomi
Online casino partner: Scientific Games
Northern Waters Casino Resort
Address: N5384 US-45, Watersmeet, Michigan
Roulette games at Northern Waters: Virtual Roulette
Owner: Lac Vieux Desert Band of Lake Superior Chippewa Indians
Online partner: PointsBet
Soaring Eagle Casino and Resort
Address: 6800 Soaring Eagle Blvd., Isabella Indian Reservation, Mount Pleasant, Michigan
Roulette games at Soaring Eagle Casino: Roulette, Single Zero Roulette
Owner: Saginaw Chippewa Tribal Nation
Online partner: Aristocrat
Odawa Casino Resort
Address: 1760 Lears Rd., Petoskey, Michigan
Roulette games at Odawa Casino: Roulette, i-Table Roulette
Owner: Little Traverse Bay Bands of Odawa Indians
Online partner: The Stars Group (PokerStars Casino)