Gambling is more prevalent in Michigan than ever before.
There are 23 tribal casinos across the state and three commercial casinos in Detroit.
In December 2019, Gov. Gretchen Whitmer signed a package of gambling expansion bills into law, which made online casinos, online poker, sports betting and fantasy sports contests legal in the Great Lakes State.
All of these new forms of gambling will likely launch in Michigan this year.
Gambling is designed to be a source of entertainment and fun. However, Michigan is serious about compulsive and problem gambling.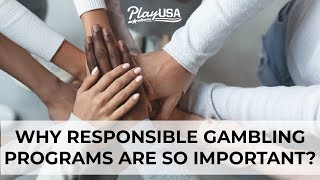 The Michigan Gaming Control Board (MGCB) maintains a list of problem gambling resources on its website.
Mandated by Michigan law, the MGCB and Detroit's commercial casinos have also developed a "Disassociated Persons" list, which allows gamblers to voluntarily make a lifetime commitment never to visit a Detroit casino.
Michigan bettors can request a permanent ban from Detroit casinos by calling 1-888-223-3044 or filling out an application online. However, a law was added to the books in October 2020 that allowed a path to come off the list after five years.
More than 4,800 applications have been processed since 2001, including 216 requests in 2019.
The Michigan Department of Health and Human Services (MDHHS) also maintains a 24-hour, toll-free helpline for problem gamblers at 1-800-270-7117.
The trained professionals are under contract with MDHHS. They coordinate initial consultations with counselors, provide financial assistance information and oversee ongoing treatment when necessary.
More information regarding the problem gambling helpline is on the MDHHS website.
The new Michigan online gambling laws also require operators to provide information on support for problem gamblers.
Plus, the state will pay $500,000 annually toward problem gambling programs, which taxes from online gambling revenue will fund.
On this page, we'll subsequently discuss responsible gambling and problem gambling. We will share what resources are available in Michigan to help those who are struggling with compulsive and problem gambling.
Understanding responsible gambling
The concept of responsible gambling is based on the idea that gambling is a source of entertainment. Anyone who gambles should understand the risk involved.
Therefore, truly responsible gambling is about sticking to affordable spending limits and ensuring there isn't any cause of personal harm.
Winning needs to be considered a fun bonus and losses should always fit within a person's budget.
That way, a night out at the casino or spent playing online casino games won't be much different than any other night out.
Those that have difficulty adhering to these principles may be at risk.
When gambling leads to financial problems, strained relationships, employment and health issues, you may be a problem gambler.
Michigan casinos, online gambling operators, suppliers and service providers are all committed to upholding the principles of responsible gambling.
To that end, each makes an effort to:
Protect

vulnerable customers.

Prevent

underage gambling.

Provide

a fair gaming experience.

Employ ethical

and responsible marketing campaigns.

Provide a

secure, safe

and reliable gambling environment.

Provide

information

about the risks of gambling and ways to gamble responsibly.
Rules for responsible gambling
The MDHHS reminds Michigan bettors that while it's possible to win money gambling, it's unlikely anyone will come out ahead in the long run.
With the odds stacked against players, the MDHHS says the goal should be to play for fun, not to make money. If you have a gambling problem, avoid gambling entirely.
The MDHHS offers the following 12 tips to gamble responsibly and have a great time doing it:
Not for Profit

: Remember that gambling is entertainment and not a way to make money. The odds are you won't come out ahead, so play for fun, not to make money.

Entertainment Cost

: Don't think of the money you spent gambling as money lost. Just accept it as the cost of entertainment.

Mix It Up

: Make sure gambling isn't the only leisure activity you enjoy. Go out to eat, see a movie or join a local sports team. You might even find that you enjoy gambling more after a break from it.

Bring Friends

: Friends make everything more fun, and you can help keep each other from going overboard.

Remain Realistic:

Don't gamble with money you need for everyday expenses. Thinking you'll somehow make it back by gambling will cause serious problems when bills come due.

Avoid ATMs

: Too many trips to the ATM can quickly turn an evening of fun into a significant financial setback.

Don't Bet Belongings

: If you run out of money, it's time to quit.

Know Your Limits

: This includes money and time. Put the amount of cash you're willing to spend on entertainment in your wallet before you go to a casino. When it's gone, you'll know it's time to stop. It's also easy to lose track of time when you're gambling, so set a time limit before you start and stick to it.

Never Borrow Money

: If you don't have the money to gamble without getting a loan or handout, then you can't afford to.

Take Five

: Take breaks often when gambling. A breather from the action will help make your cash last longer.

Check Yourself

: The risk of gambling too much is higher if you're stressed or depressed. Be extra careful during these times. If you're feeling this way, a better option might be to see a funny movie with a friend.

Be Careful with Alcohol

: Free alcoholic drinks when you're gambling come with the cost of lowered inhibitions and skewed judgment. Know your drink limit and stick to it.
Understanding problem gambling
Players who have trouble sticking to responsible gambling principles may be at risk of compulsive or problem gambling.
Of course, problem gambling includes a wide range of behaviors, such as making irresponsible and risky bets and compulsive betting that disrupts life at home or work.
Problem gamblers often also display addictive behavior that damages their savings, job and personal relationships.
Unfortunately, problem gambling can be challenging to diagnose.
Here's a list questions you need to ask about yourself, your friends or family to identify signs of problem gambling:
Do they appear

preoccupied

with gambling?

Are they

secretive

about gambling and defensive when confronted?

Do they

increase bet amounts

to achieve the desired excitement level?

Are they trying

unsuccessfully to control

, cut back, or stop gambling?

Do they appear restless or

irritable

when not gambling?

Are they gambling to

escape

problems?

Are they

chasing

losses

?

Do they lie

about the extent of their gambling?

Are they committing

crimes

to finance gambling?

Do they run the risk of

losing

relationships

, jobs, education or career opportunities because of gambling?

Are they

relying on others

to relieve desperate financial situations caused by gambling?
Responsible and problem gambling resources in Michigan
Anyone interested in learning more about responsible gambling practices or getting help for problem gambling will find the MGCB and MDHHS are two great resources.
Additionally, the following organizations work directly on issues surrounding responsible and problem gambling in MI:
Michigan Association on Problem Gambling
The Michigan Association on Problem Gambling's helpline is a toll-free, confidential, one-on-one helpline that offers help and support for Michigan residents who are problem gamblers and gambling addicts.
The phone number is 1-800-270-7117.
Health Management Systems of America gambling treatment program
The Michigan Department of Health and Human Services funds this statewide program for compulsive gamblers and their families. Treatment is available for individuals, groups and families.
Gamblers Anonymous
Gamblers Anonymous offers local support groups across the country, problem gambling literature, and other resources. Use the Gamblers Anonymous website to find a meeting in Michigan, or to learn more about problem gambling.
NFCC.org
NFCC.org is the website of the National Foundation for Credit Counseling. If gambling has made a mess of your finances, this nonprofit organization can help.
Michigan's Disassociated Persons List
The Michigan Gaming Control Board runs this list allowing individuals to bar themselves from licensed Detroit casinos permanently. There is now a process allowing a pathway off the list after five years.
Call 1-888-223-3044 for application information.
Gam-Anon
The Gam-Anon organization is specifically for family members and friends of the compulsive gambler.
National Center for Responsible Gaming
The National Center for Responsible Gaming (NCRG) helps individuals and families by supporting research and improving prevention, diagnosis, intervention, treatment and public awareness strategies.
National Council on Problem Gambling
The National Council on Problem Gambling (NCPG) nonprofit health agency offers information on problem and compulsive gambling.
National resources for responsible gambling
The following national organizations also provide advice and assistance for anyone looking for additional information, help or support with problem gambling issues.
National Council on Problem Gambling
The NCPG's mission is to lead stakeholders in the development of policy and programs for anyone affected by problem gambling.
As such, the council serves as a national advocate for programs and services assisting problem gamblers and their families.
Major NCPG programs include the National Problem Gambling helpline network that is available at 1-800-522-4700 and online at ncpgambling.org/chat.
It also runs an affiliated online peer support forum at www.gamtalk.org.
National Center for Responsible Gaming
The NCRG claims to be the only national organization exclusively devoted to funding research and to help increase understanding and awareness of gambling disorders and youth gambling. It is also dedicated to finding effective methods of treatment.
The NCRG website is an excellent resource for anyone wanting to learn more about responsible gambling behaviors and ways to talk to children about gambling.
MGCB's Disassociated Persons' program
The MGCB maintains a "Disassociated Persons" list in association with Detroit's commercial casinos. This allows Michigan residents to voluntarily make a lifetime commitment never to visit a Detroit casino.
Michigan residents can request a permanent ban from Detroit casinos by calling 1-888-223-3044 or filling out an application online.
However, a law was added in October 2020 to allow a pathway for people to get off the list after five years.
Almost 5,000 applications have been processed by the MGCB to date, including 216 in 2019 alone.
No person can place another person on the "Disassociated Persons" list. Placement is strictly voluntary and must be done by the individual seeking exclusion.
Once an individual is on the list, licensed Detroit casinos must refuse wagers from that person and deny all gaming privileges.
Remember responsible gambling
Remember: Gambling should be fun and a source of entertainment. Unfortunately, it can only be that way through responsible gambling practices.
Enjoy yourself, but make an effort to ensure your hobby doesn't become harmful. If you or someone you know is struggling with a problem or compulsive gambling, don't be afraid to ask for help.
The resources mentioned above are available to provide it.