With the Detroit Lions set to visit the Chicago Bears on Sunday, we in Michigan thought it was a good time to check in with our gambling industry friends in Illinois.
Michiganders love to pop over to Chicago for weekend trips. There's great food and holiday shopping there. But after the two states launched sports betting in the same week last year, how is gambling going in Illinois compared with here in Michigan?
I exchanged messages with colleague Joe Boozell of PlayIllinois, who has the finger on his pulse of all things Illinois sports betting.
Check out PlayIllinois for the other part of this conversation, where we break down the Detroit and Chicago sports scene overall.
Let's get to it!
Michigan sports betting could be on cusp of big leap
Joe Boozell, PlayIllinois: How is the sports betting market unfolding in Michigan?
Matt Schoch, PlayMichigan: Things have gone very well here in Michigan since launching sports betting. The biggest headache was the wait, as sports betting launched at the Detroit casinos in March 2020 and online betting didn't launch until January of this year.
That means this is the first full NFL season of betting, so I'm expecting huge numbers to come in for September.
Michigan won't threaten Illinois for a spot in the top three U.S. states for sports betting handle yet, but that achievement could be coming down the line.
I'd expect Michigan to set a record and approach $500 million in bets, and possibly even pass that barrier by the end of the season. That could especially happen as local-team interest drops off as the Lions struggle.
Compared with Michigan, Illinois gambling still has access issues
Matt Schoch: I know the numbers are huge in Illinois, but there have been some issues that way, ones that are continuing to affect the ceiling of the industry.
So, let me get this straight: As of now, I can't get an online sports betting account in Illinois unless I drive to a physical casino in the middle of a pandemic? Do I have that right?
Joe Boozell: Got that right! Illinois also has a statewide mask mandate and has generally been one of the strictest states when it comes to COVID-19 restrictions. Just makes too much sense.
Hopefully in 2022, online registration returns. But that's contingent on someone bidding for a $20 million mobile-only license, as that triggers online registration in the Sports Wagering Act. The problem? I've had multiple people tell me they don't think anyone is going to bid for that license. So pending a legislative fix, we could be stuck.
Even so, the Illinois sports betting market is thriving. It's third on a monthly basis in handle behind New Jersey and Nevada, and I'd expect a minimum of $500 million in handle per month in September and on. But with online registration, I think it's fair to speculate that Illinois could be second in the US only behind New Jersey.
Matt: But yet you still can't bet on a Michigan vs. Illinois football game while tailgating in Champaign?
Joe: Also negative! It's not possible to bet on Illinois, Northwestern, etc. here in Illinois.
As you could imagine, people were especially annoyed by that during March Madness last year, when Illinois played Loyola-Chicago and the Illini were a No. 1 seed.
With that said, the House passed a bill that would legalize in-person betting on Illinois college teams in the spring. The Senate has yet to vote, but could at the end of October. Still, Illinois has a weird thing for visiting casinos during a pandemic, as it's hard to get too excited about the bill considering the in-person stipulation.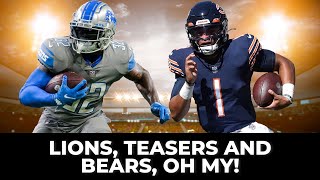 Michigan online casino gambling still the envy of Illinois
Joe: Anything controversial with the Michigan betting laws?
Matt: Michigan gambling issues are nothing nearly like those quirks in Illinois, that's for sure.
Michigan's version of slow-playing college betting a bit was instituting a rule where you can't bet on individual props for college players. But you can still be in on awards, such as the Heisman Trophy winner.
It's a small thing and definitely didn't cause any kind of uproar. I do wonder if they will revisit the college props topic down the road.
We also have online casinos here, which has been the biggest money-maker for public bodies. Through August, more than $120 million in state tax revenue has come from Michigan online casinos and online poker.
You think it's only a matter of time until Illinois adds them?
Joe: It looked that way for a while, but that might be too optimistic. I know a lot of folks here are envious of the online casino market in Michigan.
The video gaming terminal industry is huge here, and that's the main obstacle for online casinos. The casinos want it. The VGT operators are adamantly against it, and they bring in a ton of state tax revenue. So they have a lot of politicians on their side, even if a certain portion of the legislature really wants to expand internet gaming. These VGT operators are usually run by local businesses that got crushed by the pandemic, so I think a lot of lawmakers are sympathetic to them and don't want to give them more competition.
Do I think it gets done at some point? Yes. But earlier this year, it looked like 2022 was a real possibility for passage. At this point, I think that's a stretch. I do think it gets done, but that could be several years down the line.
adasdasdasddasdas
Matt: And what is this I was hearing about an actual sportsbook coming to Wrigley Field? Is that going to be a thing?
If so, are there other non-casino locales that might add physical sportsbooks in Illinois? Is that all legal now, or are they going to have to change a law there?
Joe: Yes, there will be a DraftKings Sportsbook at Wrigley Field. Get off the red line 'L' stop at Wrigley now, and it's basically a DraftKings shrine, even though the book isn't up and running yet. But as is usually the case in Illinois, it's going to be complicated!
That said, this is actually Chicago's fault. By Illinois law, pro sports teams are allowed to have retail sportsbooks. As of now, the city of Chicago does not allow it.
There is an ordinance that would lift the sports betting ban in Chicago, which should pass at some point. It's just a matter of when.
All of the pro sports teams want a retail sports book and have lobbyists working on their behalf.
Matt: Nice! Do me a favor and order me an Old Style and a Lions Super Bowl futures bet next summer. I'm feeling good about next year…
Detroit and Chicago sports: Which city can think championships?
Matt: Speaking of which, let's wrap up with this: Take all nine men's major pro sports teams between Chicago and Detroit (sorry Sky and Fire — without Detroit WNBA/MLS counterparts, I don't follow the leagues as closely as I should), and rank them for who is most likely to win a championship next.
Then I'll do the same. I'll give you a hint on mine: The White Sox will be first, and the Detroit Lions will (always) be last.
Joe: You got it:
1.White Sox
(Huge, huge gap)
2. Cubs
3. Bulls
4. Tigers
5. Blackhawks
6. Pistons
7. Bears
8. Red Wings
9. Lions
This list comes across as homer-y, but you really don't realize just how rough Detroit sports are right now until you do an exercise like this. Yikes!
Matt: Wow, I was thinking Bulls eighth on my list! Maybe I need to re-think this.
(Thinks …)
Nah.
1. White Sox
2. Tigers
3. Cubs
4. Blackhawks
5. Red Wings
6. Bears
7. Pistons
8. Bulls
9. Lions
Joe: To be clear, I don't think the Bulls are close at all. But I think they should make the NBA playoffs this year. Better than I can say about most of these teams.
The Cubs stink. I just think they have the resources and prospects to possibly make a drastic turnaround.
Matt: Other than the White Sox, none of these teams have much of a chance soon. Agreed on the Cubs resources, and plus I factored in the randomness of the MLB/NHL playoffs to help those teams.
So let's talk about Lions and Bears coming up on Sunday: What's the mood over there with the Bears? I used to live in Chicago, so it was strange for me to witness a fan base that actually likes their team. Like, "oh, you guys are not doing this whole NFL fandom thing ironically."
(… And with that, check out PlayIllinois for the other half of this discussion, which focuses on Detroit and Chicago sports, the rivalry between the cities and the how the NFC North bottom-feeders stack up the rest of the season.)