It's been years in the making and now months into the implementation.
But online gambling is very nearly a reality for Michigan residents. And many other states will look to the Great Lakes State for lessons on how to approach their own measures.
PlayMichigan produced a video, "Michigan: The Future of US Online Gambling," about the state's journey toward online gambling legalization and a look at the road ahead.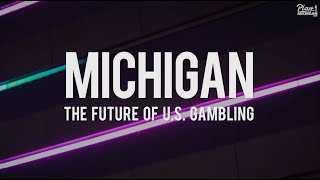 It's still early with no official launch date, Michigan is not only a lucrative business opportunity for the sector but a chance for other states to learn the best ways forward.
Michigan gambling ready for big things
Soon, more than a dozen sports betting operators and online casino platforms will be live here.
The companies agreed to market access deals with the state's 12 federally recognized Native American tribes and three commercial casinos in Detroit.
Online poker brands also will follow, likely in 2021.
With a competitive tax rate, a large tribal casino network, and nearly 10 million state residents passionate about sports and comfortable with gambling, it's a market ripe for big winners.
Long journey coming to an end soon
Tribal casinos started in the 1980s in Michigan, largely in outstate areas away from the state's major cities.
Commercial casinos came to Detroit in the 1990s, competing with a large commercial casino in Canada, already entrenched in Windsor across the Detroit River.
The Michigan Lottery, friendly fantasy sports leagues, and a thriving poker community were also staples of the state long before the legislature went to work.
Still, according to stakeholders and politicians on both sides of the aisle, much of the credit for Michigan's gambling expansion goes to state Rep. Brandt Iden.
The Republican and former tennis player at Kalamazoo College championed legislation for years to bring the gambling expansion to the state.
After a veto by lame-duck Gov. Rick Snyder to close 2018, Iden's legislation crossed the finish line a year later.
Gov. Gretchen Whitmer indeed signed expanded gambling bills into law in December 2019.
Pandemic hastened process for online launch
Retail sportsbooks launched in Detroit in March, just days before all forms of American life were upended by the COVID-19 pandemic.
With casinos shut down — and tribes and Michigan and local governments such as the city of Detroit losing money by the day — the need for online gambling revenue grew.
So, the Michigan Gaming Control Board shifted into overdrive.
As Halloween nears, the ball is moving forward legislatively while regulators are currently licensing suppliers and vendors.
The launch is in a matter of weeks, though exactly how many weeks is unknown.
Lessons for tribal casinos and the future of online gambling
Over a dozen online casino companies. Multiple online poker options, likely with tournaments played throughout the country via shared player pools. Maybe even a month with a billion dollars of sports bets made in Michigan.
Daily fantasy sports sites are now state taxpayers, in addition to online horse betting sites.
All of this is possible thanks to online gambling's imminent arrival in Michigan. But as sites open for business here, there are multiple lessons that can be learned for other states.
The biggest lesson could come from how online gambling benefits tribes and the pitfalls that might occur along the way.
"Tribal casinos are going to play a big part of the future of online gaming here in Michigan," Bay Mills Tribal Chairman Bryan Newland said. The Bay Mills Indian Community partnered with DraftKings for online casino and sports betting.
Limitless future for Michigan online gaming
The robust tribal casino market should provide a blueprint for tribes in provisions and legislation they should push.
But overall, Michigan is an exciting venue for gambling expansion. Many eyes around the globe will be keeping tabs on this state in 2021.
"I think you're going to see rapid growth in the industry. I think you're going to see Michigan leading the way," Iden said.