By offering a live stream of his online poker playing, David Kaye of Mason has a true side hustle for his side hustle.
The Michigan native, who works full time on weekdays in the data sector, has built up his poker acumen — and now his personality profile — to earn extra income with both.
Much of that is thanks to the launch of regulated Michigan online poker, which opened Jan. 29 here.
"Michigan has a massive poker community, even though it's not the first place you think of when it comes to big-name poker," he told PlayMichigan in a video interview. "It's been really exciting just to have the opportunity to play on a state-regulated site with a massive player pool."
From high school home games to WSOP
Like many Michiganders, Kaye started playing $5 poker home games with friends as the annual World Series of Poker live events boomed throughout recent summers on ESPN.
After graduating from Haslett High School and while attending college at Trine University in Indiana, Kaye continued playing live poker at home games and Michigan casinos.
He stepped up his play over time, competing live in the 2014 WSOP in Las Vegas.
In 2016, Kaye won a tournament at FireKeepers Casino in Battle Creek for $15,923. He won $16,000 at a casino from a bad-beat jackpot in 2017.
During the pandemic, with time on his hands, Kaye decided to take his poker playing to the next level.
Kaye: 'Community feel' of online poker more interactive than live
Kaye started streaming his online play in July 2020, which built up to the launch of regulated online poker.
After several delays, PokerStars Michigan launched this past Jan. 29. BetMGM Poker came soon after. Kaye plays on both platforms and said he will play WSOP.com MI when it comes here, too.
Claim Your $1,075 Bonus at BETMGM Poker!
$75 in Tournament Tickets On Deposit
Up To $1,000 On Deposit

Use Bonus Code: PLAYNJFREE
Right around launch, Kaye was averaging less than 8 viewers at a time.
Now, at any one time during Twitch streams, Kaye averages more than 100 viewers. An average session draws 1,500 viewers dropping in at some point during a 3-hour stream. Yes, content creators earn income from the platforms.
"I just really enjoy the community feel. I missed it so much from the live poker atmosphere," he said. "When you can find a community of people that you can talk hands with or talk about your journey with playing, it's really made online poker more interactive than I had in my experience with live."
A major figure for online poker streaming, Kaye said he delights in "raiding" smaller twitch streams with his large following. Streamers in Pennsylvania and Michigan have been helping each other grow their audiences, a practice that should continue across state lines when Michigan enters into interstate poker compacts. The compacting is in the works for 2021, according to comments from the Michigan Gaming Control Board.
Claim Your $100 at PokerStars Now
Play 1 Hand, Get $100 in Bonus Play
NJ & MI Shared Player Pools
Over $1 Million Won Every Day
To Claim: Click Play Now

Regulation brings confidence, larger player pools to Michigan online poker
Kaye said the popularity of regulated poker is a huge reason for his live stream online poker following.
"In a regulated market, people are much more confident about their money," Kaye said. "They feel like the games are safe, they're sanctioned, everything is going to be running smoothly, which bring a lot of people out.
"I also think that because it got regulated during (the COVID-19 pandemic), when a lot of the casinos were shut down, there were so many people just itching to play."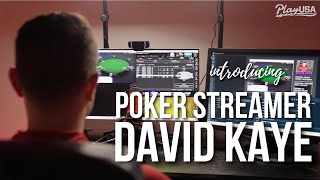 Kaye's online poker live stream goes to thousands online nearly 20 hours a week
Literally dividing up his home office with workspaces for his day job and side job, Kaye says he now plays about 15 to 18 hours a week, streaming all of it on Twitch. Then, he'll create highlight videos by trimming condensed versions of the sessions for YouTube.
He sometimes breaks down televised hands or puts together 8-10 minutes of his own sessions. Some videos are in-depth breakdowns of interesting hands.
The 29-year-old now has more than 3,000 followers on Twitch and close to 4,000 subscribers on YouTube.
(By the way, Kaye streams on a 5-minute delay, so don't get any ideas of finding him at a table and following his streams in real time. "A lot of people ask that," Kaye said, making me feel less dumb for asking.)
Kaye posts his weekly streaming schedule every Monday on Twitter (@DavidKayePoker).
Kaye has viewers from across the globe, which he has monetized to help pad his income and bankroll.
"I think streaming and poker or other games, it's kind of the next wave of entertainment for a lot of people," Kaye said in a follow-up conversation after the video interview. "I think streaming and content creation, in general, is kind of in its infancy. So to see the US poker online market coming back and seeing content creation taking off, the morphing of the two, there's a lot of opportunity for people."