Blackjack is the most popular game in casinos across the US. If a venue has casino table games of any sort, it is certain that blackjack will be on the menu.
In Michigan casinos, the situation is no different. Most casinos in the state offer some amount of blackjack. Furthermore, Michiganders are now able to access a host of online blackjack games through various Michigan online casinos in the state. There's also now live dealer blackjack online games that originate from studios inside the state.
If you are a blackjack player in the Great Lake State, you've come to the right place. This page is the premier source for information about the top card game in the land. We have all the details about how to play, where to play, and, best of all, how to cash in on great bonuses for blackjack.
Best blackjack casinos in Michigan
Rank
Casinos
Bonus
Features
Play
Is blackjack legal in Michigan?
Yes. Blackjack is legal at both tribal and commercial casinos throughout the state.
In fact, legal blackjack has been available in Michigan for nearly four decades. The first blackjack tables appeared in 1984 on the tribal lands of seven Native American groups in the state. The tribes in question were the:
Bay Mills Indian Band
Grand Traverse Band of Ottawa and Chippewa
Keweenaw Bay Indian Council
Sault Ste. Marie Band of Chippewa Indians
Hannahville Potawatomi
Saginaw Chippewa Indian Tribe
Lac Vieux Desert Band of Lake Superior Chippewa
At the time, there was no legal backing for the tables, but the winds of change were already beginning to swirl. Four years later, the Indian Gaming Regulatory Act of 1988 opened the possibility of legal gambling on the properties of federally recognized tribes.
These seven casinos managed to remain open, if under a cloud, until 1993. In that year, all seven tribes managed to arrive successfully at an agreement with the state to become fully legal operations.
Three years later, the Michigan Legislature passed the Michigan Gaming Control and Revenue Act of 1996, which created the Michigan Gaming Control Board and authorized it to issue licenses for commercial casinos in the state. The MGCB's rules specifically mention blackjack as an acceptable game to be offered at its permitted member locations.
So, there are now 26 full-service casinos in the state of Michigan, including three commercial casinos located in the Detroit area. Blackjack is available at most of these locations around the state.
Real money vs. free blackjack
Obviously, most blackjack players in Michigan want to play blackjack for real money. To be frank, blackjack is fun, but not for long if there's no risk involved.
However, it is possible to play free demo versions of online blackjack games on many Michigan gambling sites. The version will give the player $1,000 in free chips, and most of the game functions are available to try.
It is important to note that free blackjack is only available for games that are automated. In cases where sites offer live dealer games, it will only be possible to view the action.
Once you're ready to play for real, the first thing to do will be to check this page. We will have offers for new player bonuses on these sites that are often not available elsewhere.
One of the most common types of bonus that you will encounter is the no deposit casino bonus. In many cases, the online casino will actually give you free money to try the site. No deposit bonus money is quite real, although it is usually site credit and will only be usable as playing funds.
When and if you need to use more funds, you will need to make a deposit into your new casino account onsite. Once again, be sure to check with us, as online casinos will often match a portion of your deposit as a bonus. This bonus can be as high as 100% of the deposit, so it is silly to miss out on a dollar-for-dollar match.
You can often make a deposit with a variety of methods, most notably a credit card or an electronic check. It is in the best interest of the online casino to offer as many possibilities for depositing as it can, so you should be able to find a way that works for your own financial situation.
Regardless of your source of account funds, you need to play as smart as you can when you're online. The speed of the game means that all things, good or bad, happen far more quickly than live.
It is crucial that you learn and employ basic strategy when you play. Although it may seem restrictive, the steps described on a basic strategy chart have proven to be statistically optimal over any other decision. If you decide to deviate from the recommendation, you are only increasing the advantage that the casino already has.
If giving yourself the best chance to win is your goal, you should also avoid most variants or side bets that are anything besides vanilla blackjack. They are usually not a good deal for you.
Finally, each game will have its own rules, and you should look for ones that present the best opportunity. So, check each game for its rules on doubling down, splitting and what happens on a soft 17. Ideally, you want to be able to double down on whatever card pair you want, you want to be able to split as many times as you want, and you want the dealer to stand on soft 17s, rather than hit.
Online blackjack variations
Blackjack is mostly blackjack, whether you're online or live. However, there are a few ways that real money online blackjack can be different from its live counterpart.
For one thing, it is certain that live blackjack in the US will be played like American blackjack. In practice, that means that dealers will deal both cards to themselves and check to see if they have a blackjack.
European blackjack, which is obviously unavailable in most live situations in the US, may be present online. In this variation, the dealer does not deal his or her second down card until the players' action is complete.
There are also several other variants that you are more likely to encounter online. They may include:
Multihand Blackjack: Play up to five hands at once.
Free Bet Blackjack: Splitting and doubling down are free, but the dealer pushes on 22s.
Blackjack X-Change: Switch any card in your hand, and either pay to remove bad cards or get paid to switch out good ones.
Blazing 7's Blackjack: Progressive side bet in which you receive payouts for every 7 you get in your hand.
Of course, we'd be remiss if we didn't mention the live dealer blackjack games. These intensely popular games allow players to see and interact with an actual dealer running an actual blackjack game in real time.
The play takes place in a specialized studio inside or near the actual casino itself. In addition to being able to play in a real blackjack game, players can chat with the dealer and with other players who are using the same table. The experience, which can get quite immersive, has proven to be a favorite among online blackjack players.
How to play blackjack online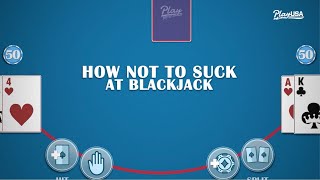 Blackjack is the most popular casino game for its simplicity.
In a typical hand of blackjack, you are dealt two cards. Depending on the variant and whether you're playing with others, the cards are either face down or face up.
The dealer also receives two cards. However, only one of these cards is face up.
Each numbered card in blackjack equals the number printed on it. All face cards equal ten. Aces can equal either 11 or one, and this value can fluctuate as the hand progresses.
So, the first thing to do when you receive your cards is to add their values together. You should find a sum between two and 21.
You will then have the option either to receive another card from the dealer ("hit") or stand pat with the cards that you have ("stand"). Generally speaking, the goal is to collect a selection of cards that add up as close to 21 as possible.
If your cards total more than 21 at any point, your hand is declared bust, and you automatically lose the bet. However, the dealer also has the opportunity to draw cards, and the same rule applies to him, too.
The determining factor about whether or not you win a hand of blackjack is how your hand compares to the dealer's hand. You win when either your hand is more than the dealer's but less than 21 OR if your hand is less than 21 and the dealer goes bust.
If your two cards add up to 21, the situation is known as a blackjack. As long as the dealer does not tie you (and he must also have a blackjack, not draw to a 21), a blackjack is an automatic win.
Basic blackjack strategy
Entire books have been written to describe the optimal way to play blackjack. There is even a system known as basic strategy that tells you the correct strategy in every single conceivable situation.
Most casinos will be happy to furnish you with a card that can guide you on basic strategy. Even when you play correctly, you are still at a slight statistical disadvantage to the house, and the casinos are more than happy to deal hands at a (roughly) 0.5% edge. That's not to say you shouldn't use basic strategy, but understand that it's not foolproof or a guarantor of long-term success.
As you play, your hand's value is quite important, of course. However, the dealer's upcard is of equal or greater value to this consideration because of the potential value of the face down card.
Statistically, the most likely scenario is that the unseen card has a value of 10, since 10s, jacks, queens, and kings all have the same value. With that information, it is reasonable to add 10 to the dealer's upcard as an estimate for the value of their hand.
In most cases, dealers have to stand on 17s or higher. The only exceptions are in some situations where the 17 is formed with an ace. In that case, known as a "soft" 17, a dealer will either stand or hit depending on the rules of the house. The rules of the house concerning soft 17s are usually written on the felt of the blackjack table itself.
So, if the dealer's upcard is between 2 and 6, then you know for certain that the dealer will have to draw at least one card. Furthermore, if the other card is indeed a 10 or face card, then the guaranteed draw will come with the risk of going bust.
On the other hand, if the card is a 7 or above, then you might need to get as close to 21 as possible. After all, the dealer might be able to stand pat with two cards.
One key bit of strategy when playing blackjack is doubling down. If you wish, you can double your wager in order to receive one more card, regardless of its value. If you happen to have a 10 or 11, and particularly if the dealer's upcard is between 2 and 6, a double down can be a profitable play.
There is a technique that some blackjack players use to great effect called "card counting." In essence, card counters use memory tricks to determine when there is an increased likelihood of drawing big hands. Then, they increase their wagers to take advantage of the situation.
A skilled card counter can actually negate the house edge completely and shift the odds into the counter's favor. Famously, a team of students and professors from the Massachusetts Institute of Technology won millions of dollars from various casinos with expert use of counting.
Needless to say, the casinos do not appreciate this tactic and have installed many countermeasures against it. Those measures include getting rid of a face-down card before each hand (known as "burning" a card), increasing the number of decks in play, and shuffling earlier and more often than expected. If those actions still cannot stop the card counter, a casino might bar the counter from playing blackjack at the property any longer.
Understanding the split, insurance and side bets
There are a few other kinds of bets or features that are common in many blackjack games. The first of these is the split.
If both of your dealt cards are the same value, then you can place another betting unit in front of you and divide the hand in half. The dealer will deal a card to each of the two new hands, and you have all the other options available to you that you did before. The two axioms that blackjack players use for splitting are that you always split aces and eights, but you never split 10s.
You will also find that the dealer will offer you the opportunity to purchase insurance from time to time. This option arises if the dealer's upcard is an ace, as there is a real danger of the dealer having blackjack and causing everyone to lose.
Should you choose to pay for insurance, you will bet an amount equivalent to half your existing bet. If the dealer ends up having blackjack, insurance pays 2 to 1 and you will break even on the hand.
The wisdom of engaging in insurance, splitting or doubling down varies in the eye of each blackjack player. You will have to decide for yourself if these options make sense to you.
Online blackjack vs. live blackjack
Blackjack is one of the most well-known casino games in the world. Most people, including those who do not gamble, have an understanding about how blackjack works.
However, their experiences are mostly limited to live blackjack. There are some very specific ways that online blackjack is different compared to the live version.
The most profound difference is the speed of play. Online games of all stripes move faster than their live counterparts, since there is no physical manipulation of objects to be completed. So, you will average a great deal more hands of blackjack in the same time period online than you will live.
Secondly, you have a better chance of encountering a wide selection of variants online. Because most online games require no active dealer to manage them, a site can host as many versions of the game as it likes without having to worry about manpower or floorspace. Though most of these games vary only because of slight rule tweaks or extra side bets, it's nice to have a variety of options.
Third, the limits online are much lower than they are live. In live casinos, it is difficult to find a game dealt with a minimum bet less than $10 these days. Depending on the time of day and year, it can be much higher than that. However, online blackjack games are available for less than a dollar a hand at multiple sites, so it's a better option for gambling on a budget.
You also don't have to worry about not being able to find a seat. Even the most popular games and tables will always have an opening for the online player.
Finally, it is impossible to count cards in online blackjack. Because of the technology involved, online blackjack games are able to shuffle the deck after every single hand, which negates the advantage that counters hope to gain.
Michigan blackjack rules
Michigan's 26 casinos are owned by nearly two dozen operators. Most of them reside on tribal lands and function courtesy of individual compacts with the state of Michigan.
So there's never going to be universal lockstep in terms of how each property manages its blackjack games. Each location is likely to have its own variations and ways of doing business.
However, in most cases, you will find the following rules in place across the board:
Blackjacks pay 3:2. There are a couple of properties that appear to have some options for 6:5 payouts, but both locations (MGM Grand and Soaring Eagle) have 3:2 games, too.
Most games use six decks. There are a few options here and there that use five decks. MotorCity Casino has some games that use eight. You may also come across a few single deck opportunities.
Double down on any 2. You may even find some more options for doubling, like any 3, any 4 or redoubling.
Most casinos have dealers hitting on a soft 17. There are some exceptions, but the majority will take an extra card.
In general, no surrender is allowed. Some casinos may let you forfeit half the bet and save some money, but most of the blackjack casinos in Michigan are going to showdown without exception.
You may also encounter various side bets and options depending on where you go. In general, side bets are not good wagers, but if you're having fun, then go right ahead. Some side bets you might see include:
Perfect Pairs
Trilux BJ
Lucky George Dealer Envy
High Tie
Super 4
Odds and house edge on blackjack
We've made several passing references to the house edge or house advantage that the casino has over you in blackjack. However, it might be a good idea to review what that means, exactly.
The house edge is the percentage of each bet that the casino expects to keep and that you expect to lose. So, if the house edge on a game is 5%, then the casino expects to keep $5 of every $100 you wager.
Blackjack's popularity is due, in part, to its house edge being one of the lowest in the entire gambling industry. The casino never expects to realize more than 1% of your bet over the long haul. In other words, it's not unusual to get a bit lucky and either win or break even in blackjack.
Below is a list for all the different house edges of a standard blackjack game. The only variable is the number of decks being used. However, please understand that these percentages depend on you executing perfect basic strategy when you play. Any deviations will lead to higher chances for losing.
Here are the typical house edges for blackjack games:
One deck: 0.17%
Two decks: 0.46%
Four decks: 0.60%
Six decks: 0.64%
Eight decks: 0.66%
Bear in mind that the many variants you see usually come with greater advantages for the casino. So be wary about anything that looks new or unusual and has the word "blackjack" attached to it.
Michigan blackjack tables near you
Now that you've heard about all things blackjack in Michigan, you're probably ready to go play some hands. Thankfully, with so many options in the state, there's probably a blackjack-dealing casino a short drive away.
By and large, Michigan's casinos are clustered into one of four regions. However, if you don't live in these areas, be sure to check the last section on the list. There are some other locations that might be able to serve you.
Detroit
Greektown Casino Hotel, 555 E. Lafayette St., Detroit, MI 48226
MGM Grand Detroit, 1777 3rd Ave., Detroit, MI 48226
MotorCity Casino Hotel, 2901 Grand River Ave., Detroit, MI 48201
SW Michigan/Kalamazoo
Firekeepers Casino and Hotel, 11177 E. Michigan Ave., Battle Creek, MI 49014
Four Winds Dowagiac, 58700 M-51, Dowagiac, MI 49047
Four Winds Hartford, 68600 Red Arrow Highway, Hartford, MI 49057
Four Winds New Buffalo, 11111 Wilson Road, New Buffalo, MI 49117
Gun Lake Casino, 1123 129th Ave., Wayland, MI 49348
NE Michigan/Eastern Upper Peninsula
Bay Mills Resort & Casino, 11386 W. Lakeshore Drive, Brimley, MI 49715
Kewadin Casino, N7761 Candy Cane Lane, Christmas, MI 49862
Kewadin Casino, N. 3 Mile Road, Hessel, MI 49745
Kewadin Casino, 5630 W., US-2, Manistique, MI 49854
Kewadin Casino, Hotel and Convention Center, 2186 Shunk Road, Sault Ste. Marie, MI 49783
Kewadin Shores Casino & Hotel, 3015 Mackinac Trail, St. Ignace, MI 49781
Kings Club Casino, 12140 W. Lakeshore Dr., Brimley, MI 49715
Leelanau Sands Casino, 2521 N. West Bay Shore Drive, Peshawbestown, MI 49682
Little River Casino Resort, Government Center Drive, Manistee, MI 49660
Odawa Casino, 1760 Lears Road, Petoskey, MI 49770
Turtle Creek Casino & Hotel, 7741 M-72, Williamsburg, MI 49690
Western Upper Peninsula
Ojibwa Casino, 16449 Michigan Ave., Baraga, MI 49908
Ojibwa Casino, 105 Acre Trail, Marquette, MI 49855
Island Resort & Casino, W. 399 US-2, Harris, MI 49845
Northern Waters Casino, N5384 US-45, Watersmeet, MI 49969
Other properties
Soaring Eagle Casino & Resort, 6800 Soaring Eagle Blvd., Mount Pleasant, MI 48858
Make sure to call ahead before you head out for one of these properties. The situation regarding hours of operation and availability can change rapidly, and you don't want to waste a trip. However, there should be at least one great option for playing blackjack in Michigan nearby. Check it out!